Stories about the Great Lakes and the People Working Toward Equity
Meet the Wisconsinites and Great Lakes advocates working toward equity in a society where environmental injustice, racism, ableism and economic injustice are the waters we swim in. Join Wisconsin Sea Grant's Bonnie Willison and Hali Jama as we bring you inspiring stories from the community organizers, researchers, and leaders navigating Wisconsin's waters.
Subscribe for free through Google Podcasts, Spotify and iTunes.
Fire, blueberries and treaty rights – 2/8/2023
Today, we're talking about red pine forests, blueberries, treaty rights, and how they all converge around fire on a tiny spit of land jutting out into Lake Superior – Minnesota and Wisconsin Points. Melonee Montano tells us about the importance of cultural fire for the Anishinaabe people and Evan Larson takes us on a walk in the woods to decipher the stories left by elder trees. Wildland firefighter Damon Panek shares his vision for collaboratively restoring fire to Wisconsin and Minnesota points, an end goal of the Nimaawanji'idimin giiwitaashkodeng: We are all gathering around the fire project, funded by Wisconsin Sea Grant.
Season Two: An Update – 2/6/2023
Hear an update about season two and a farewell message from Hali, co-creator of The Water We Swim In and former Wisconsin Sea Grant intern.
Houselessness and the environment: a roundtable – 11/29/2022
People experiencing houselessness are amongst those most affected by extreme cold, extreme heat, wildfires, and other weather exacerbated by climate change. The Water We Swim In team wanted to learn more about houselessness and its ties to the environment – especially because Wisconsin's already frigid winters and hot summers might become more erratic. We sat down with 7 community leaders and researchers from Boston to Portland to talk about the housing crisis, climate, and community. Finally, we visit Porch Light, Inc, right here in Madison, Wisconsin.
Water is life: Lake Winnebago – 9/7/2022
Lake Winnebago, Wisconsin's largest inland lake, is important to many – the Indigenous people who live there now, the Indigenous people who have a long history on its shores, the non-Indigenous residents of the Fox valley, and the local plants and animals. On this episode, we talk to one inter-tribal team that is looking to unite all of these groups for the health of the lake and for Indigenous sovereignty. From leaders at the Brothertown Indian Nation and UW-Madison, we hear about the Water Walk movement, the history of wild rice on Lake Winnebago, the outlooks for rice restoration and the importance of strong partnerships.
The leaders of tomorrow – 8/24/2022
For this episode, we criss-cross Wisconsin to talk to ten young people about the future. These young individuals, between middle school and post-college, are all passionate about the environment; whether that is focus on the Great Lakes, sustainability, waste, water or environmental justice. In the current era of climate crisis and intense change, these young advocates speak to their experiences, concerns and hopes for the future and encourage everyone, no matter the age group, to make a difference.
First, we visit Henry and Charlotte in Pulaski, Wisconsin, and Madison. Then, Bonnie speaks to TRUE Skool students from Milwaukee about their concerns about lead in drinking water, food security, agriculture, and environmental justice. We speak to UW-Madison students Jumana and Paige about Indigenous water priorities and the environment in our backyards. Finally, we talk with Wisconsin Student Climate Action Coalition founding members CJ and Natalie, who are finding their place in the environmental movement after college.
Reconnecting through books – 8/10/2022
Books provide a plethora of perspectives, and it is important for people from all walks of life to have access to books about their culture, language, and way of life. This is why Wisconsin Sea Grant and the Great Lakes Indian Fish and Wildlife Commission teamed up to create a book club called "Maadagindan! Start Reading!", which aims to increase awareness of Ojibwe culture and teach kids, and educators, about the Great Lakes. Today, we specifically focus on the Native American community, who as a result of ethnic cleansing have lost many of their cultural aspects of life. In this episode, we follow the story of a book club attendee Liz Carter, and honored guest Michael Waasegiizhig Price, while exploring Ojibwe children's literature, the Anishinaabe language, and Indigenous reconnection to what's been taken through colonization.
Learning to fish with the Midwest Crappie Hunters – 7/6/2022
Fishing is an activity that gets people outdoors and helps them develop a relationship with water. It provides many anglers with peace and can often have a positive impact on mental health. But for those growing up in segregated central cities, economic and transportation barriers often prevents them from accessing green spaces and water bodies. This is where The Midwest Crappie Hunters comes into the picture. They recognized this problem in Milwaukee and decided to take action. The purpose of this organization is to work with "inner-city youth, the elderly, veterans and the disadvantaged" to teach them about "the outdoors, safety, fishing and the upkeep of our aquatic resources." In this episode, we are joined by the president of the Midwest Crappie Hunters, Darrian Perry. We also take a field trip to Milwaukee and go fishing and meet some Midwest Crappie Hunters.  
Eating fish (soup) safely – 6/22/2022
Immigrants and refugees often bring their food habits with them to their new homes. This includes their love for fishing, or maybe their favorite fish soup recipe. But what happens when immigrant families rely on fish from contaminated waters? A Wisconsin Department of Health Services study found that in the Burmese refugee community in Milwaukee, women of childbearing age had higher levels of Mercury, PCBs, and lead in their blood levels compared to other Milwaukee women of the same age. In this episode, we are joined by Judy Yan, Amanda Haban, Dr. Gavin Dehnert and Dr. Tom Pearson as we discuss how to navigate cultural and language diversity to inform all communities about safe fish consumption.
Access is justice – 6/8/2022
In this episode, we focus on accessibility in the Great Lakes region. How does a wheelchair user navigate at a beach? How does a blind person enjoy the coasts? We talk with leaders that have been working to make the outdoors more accessible for people with disabilities. You can expect to hear from people like Damian Buchman; the founder and executive director of the Ability Center, who helped make a Wisconsin beach the most accessible beach in the country. But we were also curious about the rest of the beaches across the state. We talk to Courtney Gunville and Natalie Chin about how accessible it really is to visit our coasts. Finally, we speak to John Stratte, the owner of Pine Forest Lodge, who provides accessible outdoor activities at his northwoods retreat.
Hidden currents – 5/26/2022
In this episode, we dive beneath the water to explore why Black children are drowning more than any other race, why marginalized communities often lack access to swimming pools, and how to stay safe in the water. We hear about the alarming trend facing swimming pools in cities across the nation, relive a fight to save one Milwaukee pool, and walk the shores of Lake Michigan with the Beach Ambassador program. Join us as Brenda Coley, Jumana Tanner, Cheryl Bledsoe, Sally Callan, and Deidre Peroff discuss how racism, segregation and redlining has taken away Black people's access to water and, essentially, the right to swim.
Fresh water, old problems – 5/11/2022
When most people think of water and environmental justice, they think of the Flint water crisis. On the introductory episode of The Water We Swim In, Bonnie and Hali talk to UW-Madison's Dr. Manny Teodoro. Dr. Teodoro walks us through the troubled history of racial conflict in the Great Lakes region, why Flint captured the public's imagination, and what we can do about the historic legacies that still impact our freshwater today. 
Trailer: The Water We Swim In – 4/29/2022
On The Water We Swim In, Wisconsin Sea Grant brings you stories from the community organizers, researchers, and leaders navigating Wisconsin's water. Subscribe now wherever you get your podcasts.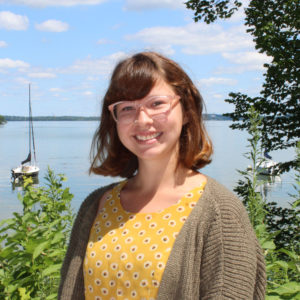 Video Producer
What I do at Sea Grant
As the videographer and digital storyteller, Bonnie uses her video and animation skills to showcase the stories of Wisconsin Sea Grant.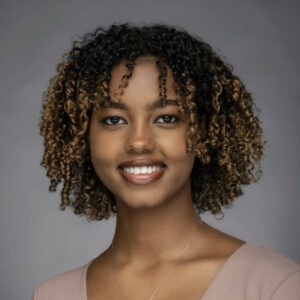 Hali Jama | Host
Student Podcast Producer
What I do at Sea Grant
Hali brings her background in social justice, business and marketing to Wisconsin Sea Grant, where she is the co-producer and co-host of The Water We Swim In.