During this unprecedented time, Wisconsin Sea Grant is pleased to share Great Lakes literacy resources that educators and families can use during COVID-19. We are unable to loan any of our kits right now because the library is closed and the library delivery network is not traveling the state. Most of our kits have online content so check out the links below.
If you have resources to add, please email Anne Moser.
Stay safe, stay well, stay connected.
---
Wisconsin Sea Grant works with education partners throughout Wisconsin and the Great Lakes Basin to develop educational resources centered around promoting Great Lakes learning.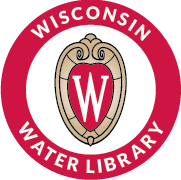 Each resource enables educators to teach Great Lakes Literacy Principles in formal and informal learning environments and all resources are available for loan free of charge from the Wisconsin Water Library at UW-Madison. Any Wisconsin resident can borrow these materials and have them delivered to their local library via the statewide Library Delivery Network.
Aquatic Invaders Attack Pack
For: Grades 4 though 10
Topic: Aquatic invasive species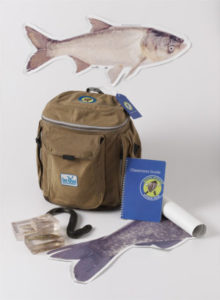 The Aquatic Invaders Attack Pack is a rucksack filled with materials that help students and others learn about aquatic invasive species (AIS) found in the Great Lakes. Children learn about problems caused by AIS and what can be done about them. Each pack includes preserved specimens of some of the most problematic AIS in the Great Lakes, rugged plastic fact sheets, a classroom guide and other materials. The packs are designed to complement the Nab the Aquatic Invader! website hosted by Illinois-Indiana Sea Grant.
Fish-o-pedia Pack
For: Ages 4 through 10
Topics: Great Lakes Fish
The Fish-o-pedia Pack is an education pack filled with materials to help teach students and other groups about Great Lakes fish. Each pack includes average size vinyl cutouts of twelve native and non-native Great Lakes fish. The pack also contains the Fish-o-Pedia cards – filled with facts and figures about each of the species. Also included is the 4th edition of The Life of the Lakes: a Guide to the Great Lakes Fishery (2019) Brandon C. Schroeder, Dan M. O'Keefe, and Shari L. Dann with Michigan Sea Grant.
Great Lakes and Water Science – Lesson plans and STEM kits
For: Ages 3 through 10
Topics: Varied
Ten lesson plans, newly updated in 2018, and three STEM kits are available for use. They are handy tools for teachers, librarians and informal educators looking for materials on water-related and Great Lakes topics. The lesson plans are downloadable from the website of the Wisconsin Water Library. The three STEM kits are physical kits that are available for checkout from the Wisconsin Water Library.
Great Lakes Basin Map
For: All
Topics: Varied
This 7 foot by 10 foot vinyl Great Lakes Basin map illustrates the 2,212 mile journey from the tip of Lake Superior out to the Atlantic Ocean. The map includes a depth profile of the lakes and major rivers within the system, shows the direction and volume of flow through each of the lakes, and represents the journey of water from Lake Superior out to the Atlantic Ocean. The map is available for checkout from the Wisconsin Water Library.
Great Lakes Track and Act – New!
For: K – adult
Topic: Marine Debris
The Marine Debris Tracker mobile app, created in 2010, is a joint initiative between the NOAA Marine Debris Program and the Southeast Atlantic Marine Debris Initiative (SEA-MDI), run by the University of Georgia College of Engineering. The tracker app is a great way to get involved in local and global data collection about the quantity, distribution and type of litter. The app records the debris location through GPS, allows you to select your target debris item(s), add a description to an item(s), attach photos of debris items to document, view the data on your phone and submit the data to SEA-MDI's Marine Debris Tracker website for viewing and later download, as well as track statistics posted in real time (requires registration, which is available on the app). 
The Marine Debris Tracker app contains 25 customized lists of commonly found litter items in different regions, with the Great Lakes Track and Act focused on the the Great Lakes basin.
The Great Lakes Track and Act project was developed by teachers from the Howard-Suamico and Pulaski school districts, Wisconsin Sea Grant Institute and the Inland Seas Education Association.  Download the free Marine Debris Tracker app, through your app store or Android app on Google Play, select the Great Lakes Track and Act project, and start tracking today!
Plastic Panic – New!
For: All
Topic: Plastics
Model the journey water takes at a Wastewater Treatment Plant (WWTP) through a series of hands-on steps around a tabletop model. Learn about our microplastic pollution problem, and discover what happens to the pollutants as they enter and pass through a WWTP. Can be use for informal learning and can be adapted to other settings.
ROVe Pack
For: Middle school students
Topic: Engineering
Middle school students can experience the engineering process while learning about Great Lakes maritime history and underwater exploration with this loanable pack. The ROVe (Remotely Operated Vehicles and Engineering) packs provide a rich learning experience aligned to the engineering principles found in the Next Generation Science Standards. A ROVe Pack provides online lesson plans and the equipment necessary for teachers to carry out the engineering design process with students as they build their own simple ROVs within a regular classroom using common classroom supplies and a small children's pool.
ROVe the Great Lakes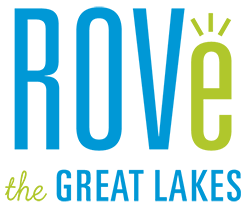 For: Middle school students
Topic: Maritime History and Underwater Exploration
Middle and high school students can experience Great Lakes maritime history and underwater exploration with this loanable pack. ROVe the Great Lakes provides a rich learning experience aligned with Wisconsin Model Academic Standards for Social Studies, Next Generation Science Standards, Common Core State Standards for Literacy and the Great Lakes Literacy Principles. Students will explore Great Lakes maritime vocabulary; maneuver a remotely operated vehicle (ROV); enhance their communication skills through information-gathering, presentation and creative writing opportunities; and learn about various careers, specifically maritime archeology, that use remotely operated vehicles.
STEM Kits and Lesson Plans
For: children ages 3 to 9 but can be adapted for older children, too
Topic: a variety, including water supply, Great Lakes fish, frogs, marine debris, etc.
The lesson plans are interdisciplinary – they involve literacy, science and art on a water-related theme. The STEM Kits enhance the traditional children's library or school storytime with a water science topic and an introduction to the essentials of the scientific method: observation, hypothesis formation, testing, more observation, recording and conclusion-building. Included in each kit are a topical "science chat," read-aloud books, a science experiment or activity, songs and craft ideas.
Trash Trunk – New!
For: K – adult
Topic: Marine Debris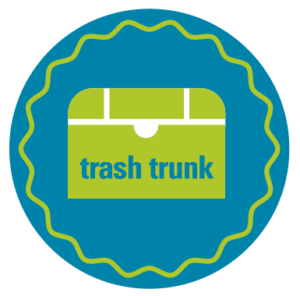 The Trash Trunk is designed for both formal and informal educational settings. The loanable trunk contains an Educator's Guide with fourteen lessons and activities reprinted from a variety of sources, informational display cards and supporting materials needed to perform the activities. The activities are presented in three sections addressing the origins of marine debris, its impacts and what can be done. Educators may select a single lesson or develop a unit using Trash Trunk content, supplemental materials and common classroom supplies.