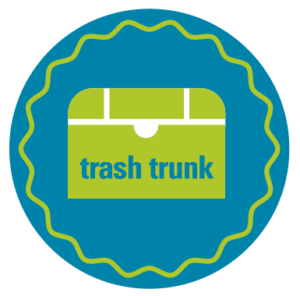 The Trash Trunk is designed for both formal and informal educational settings. The loanable trunk contains an Educator's Guide with fourteen lessons and activities reprinted from a variety of sources, informational display cards and supporting materials needed to perform the activities. The activities are presented in three sections addressing the origins of marine debris, its impacts, and what can be done. Educators may select a single lesson or develop a unit utilizing Trash Trunk content, supplemental materials, and common classroom supplies.
Trash Trunk Education Guide
Trash Trunk Display Cards
Borrow a Trash Trunk 
Trash Trunks were created by the UW Sea Grant Institute in partnership with Ohio and Michigan Sea Grants and NOAA Marine Debris with Center for Great Lakes Literacy funding from the Great Lakes Restoration Initiative.