Wisconsin Sea Grant is a statewide program of basic and applied research, education, outreach and technology transfer dedicated to the stewardship and sustainable use of the nation's Great Lakes and ocean resources.
In 2022, Wisconsin Sea Grant celebrated its 50th anniversary. Visit our timeline for program and Great Lakes milestones. Check out historical photos.  The blog has reflections from staff members on changes to the work Sea Grant has done through the years. A video celebrating 50 years and one that details the creation and installation of a commemorative mural are also available for viewing. 
Headquartered at the University of Wisconsin-Madison, the institute is housed in the Office of the Vice Chancellor for Research and Graduate Education's Aquatic Sciences Center. Wisconsin Sea Grant is part of a national network of 34 university-based programs funded through the National Sea Grant College Program, National Oceanic and Atmospheric Administration, U.S. Department of Commerce and through matching contributions from participating states and the private sector. 
Please contact us if you need anything on this website in an alternate format, moira@aqua.wisc.edu or (608) 263-5371.  
Each year, the program scrutinizes the impact it has on coastal communities, serving people and better understanding the Great Lakes ecosystem. This document (our 2022 program one sheet), provides a summary.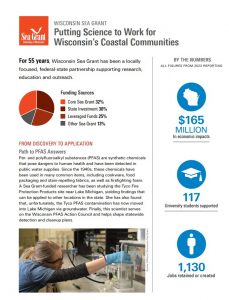 Wisconsin Sea Grant undertook a sustainability initiative in its Madison office building. Sea Grant shares this building with the University of Wisconsin-Madison Communication Sciences and Disorders Department and the effort was in partnership with that department. In fall 2021, it was awarded a platinum certification through the Green Office initiative by the UW-Madison Office of Sustainability. The certification process assessed the building's waste and recycling streams, energy and water savings, and purchasing strategies. For further information, contact James Grandt.
A special message from the Sea Grant director regarding funding for the program  
Each program within the National Sea Grant College Program undergoes a review of functioning, organization, collaboration and service to coastal people and organizations. In preparation, individual programs provide a self-assessment. Here's Wisconsin Sea Grant's from its most recent review, completed in March 2019. 
Please consider supporting our work in support of Great Lakes research, education and outreach.