Wisconsin Sea Grant is dedicated to enhancing the quality of coastal waters of lakes Michigan and Superior. We achieve this by developing local capacity to improve and protect water resources and educating Great Lakes basin residents, visitors and decision-makers about the causes and consequences of water-quality problems.
Wisconsin Sea Grant provides science-based information about the sources, transport and fate of contaminants in the Great Lakes, the cause-and-effect relationships between watershed activities and water quality, and the impacts of coastal development on nearshore habitats.
Green Bay Research Compendium
In 2022, Wisconsin Sea Grant celebrates its 50th anniversary as a college program. It seemed a fitting time to collect and gather research findings on an important feature of the Great Lakes and a centerpiece of Sea Grant's research—Green Bay. This document represents nearly 50 years of exploration of the 1,600-square-mile bay of critical ecosystem for Lake Michigan, which has been buffeted by changes during those decades.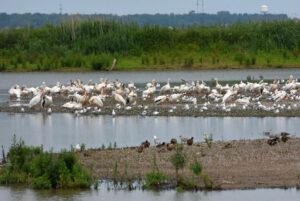 Wisconsin Clean Marina Program
The Wisconsin Clean Marina Program provides guidance and education that enable marina and boatyard operators to protect the resources that sustain their livelihood: clean water, clean air, and healthy fish and wildlife communities. The program promotes voluntary adoption of measures to reduce pollution from marinas, boatyards and recreational boats. Facilities that adopt the recommended practices become certified as Wisconsin clean marinas. Learn more.
State of the Bay report
"State of the Bay: The Condition of the Bay of Green Bay/Lake Michigan 2013" is the first comprehensive look at the ecological health of the region in 20 years. It offers details on the bay's "dead zone," the effect of aquatic invasive species, the good news about walleye and more. State of the Bay Report 2013.
Lower Fox River total maximum daily load (TMDL)
Several streams and rivers in the Lower Fox River and Green Bay Basin are impaired due to excess amounts of phosphorus and sediments. A plan has been developed to improve water quality, know as a total maximum daily load (TMDL) for the Lower Fox River and Green Bay. Follow the links below for further information:
Current research and outreach
Browse our 2022-24 Directory of Projects and People to find information about current research and outreach that is related to AIS.
Virtual Beach Tutorials
These video tutorials accompany six training modules for the Virtual Beach software. The software is designed for developing site-specific statistical models for the prediction of pathogen indicator levels at recreational beaches.