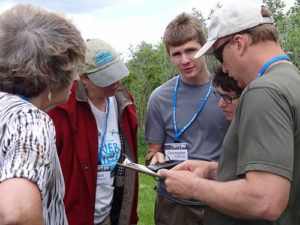 Great Lakes Quests are virtual learning activities about coastal topics in Wisconsin that use interactive story maps. Wisconsin Sea Grant and the Upham Woods Outdoor Learning Center collaborated to develop these activities.
The Quests are inspired by the century-old British tradition of letterboxing, in which clue-driven activities encourage people to get out in nature to find a container that holds a notebook and a stamp.
In our virtual format, a story map provides the narrative interspersed with multimedia, an online survey form provide the clues, and there is a certificate of completion at the end.
There are four Great Lakes Quests–in the Wisconsin communities of Superior, Two Rivers, Racine and Kenosha–with more planned.
To start your adventure, visit the Great Lakes Quests Collection
Ecological Restoration of Wisconsin Point
A tour of ecological restoration projects on Wisconsin Point in Superior
Fishing Heritage of Two Rivers
A tour of the rich commercial fishing heritage of Two Rivers
Healthy and Resilient Beaches in Racine
A tour of beach restoration projects in Racine
Protecting the Kenosha Dunes
Explore a plan to preserve this unique natural area in Kenosha