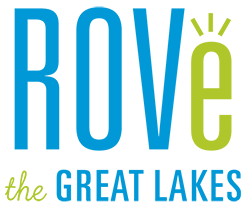 Middle and high school students can experience Great Lakes maritime history and underwater exploration with this loanable pack. ROVe the Great Lakes provides a rich learning experience aligned with Wisconsin Model Academic Standards for Social Studies, Next Generation Science Standards, Common Core State Standards for Literacy and the Great Lakes Literacy Principles.
Students will explore Great Lakes maritime vocabulary; maneuver a remotely operated vehicle (ROV); enhance their communication skills through information-gathering, presentation and creative writing opportunities; and learn about various careers, specifically maritime archeology, that use remotely operated vehicles.
Wisconsin teachers can borrow the ROVe the Great Lakes Pack from the Wisconsin Water Library at UW-Madison. The pack includes the Trident, an ROV that can be used in a pool and a banner to explore with the ROV. Teachers must be trained in using the ROV before it can be launched in the classroom. Training can be provided through Wisconsin Sea Grant or the Center for Great Lakes Literacy workshops. Contact Anne Moser for more information.
All curriculum materials are downloadable below and do not come in the pack. If a teacher does not have access to a pool, there is a classroom-only adaptation.
---
Teacher's Guide
Start here for teaching the full week long unit. The guide includes outlines for each day and links to all student and educator handouts.

Detailed lesson plans:
Multimedia resources available on the ROVe the Great Lakes YouTube channel.
Less time available? Check out this menu of activities to plan your own unit.
---
The ROVe the Great Lakes Pack was developed by Lynn Kurth, a middle school science teacher at Prairie River Middle School (Merrill, Wis.), Katherine Holz, high school science teacher (Merrill, Wis.), Anne Moser, education coordinator for Wisconsin Sea Grant, Ginny Carlton, education outreach specialist with Wisconsin Sea Grant, and Victoria Kiefer, maritime archaeologist with the Wisconsin Historical Society. Produced by Wisconsin Sea Grant staff: Yael Gen, designer, Elizabeth White, editor, and Bonnie Willison, videographer. Shipwreck art by Kristen Rost. With generous support from the Wisconsin Dept. of Public Instruction's OER Innovation Grant.