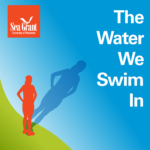 In this episode, we dive beneath the water to explore why Black children are drowning more than any other race, why marginalized communities often lack access to swimming pools, how to stay safe among hidden currents. We hear about the alarming trend facing swimming pools in cities across the nation, relive a fight to save one Milwaukee pool, and walk the shores of Lake Michigan with the Beach Ambassador program
First, we meet Jumana Tanner. Jumana was a Wisconsin Sea Grant intern for the Beach Ambassadors program in the summer of 2021. Her job was to go to Bradford beach in Milwaukee during the busiest hours, and talk to people about what might be going on beneath the surface of the water.
Then we meet Brenda Coley, the co-executive director of Milwaukee Water Commons and a longtime activist in Milwaukee's black community. She tells us about the dark history of water access and gives us a brief historical overview of how marginalized communities, especially lack communities, are affected by the lack of water accessibility. 
Then, we meet Wisconsin Sea Grant outreach specialist Dr. Deidre Peroff, who has researched swimming disparities since she started working at Wisconsin Sea Grant's Milwaukee office in 2016. She helped create the new Beach Ambassador program, which fills a vital role on Milwaukee's busy Bradford Beach..
Lastly, we meet Cheryl Bledsoe and Sally Callan, who protested the closure of the Schulz Aquatic Center  and tell us about their victorious, yet bittersweet win.
So, Let's dive in.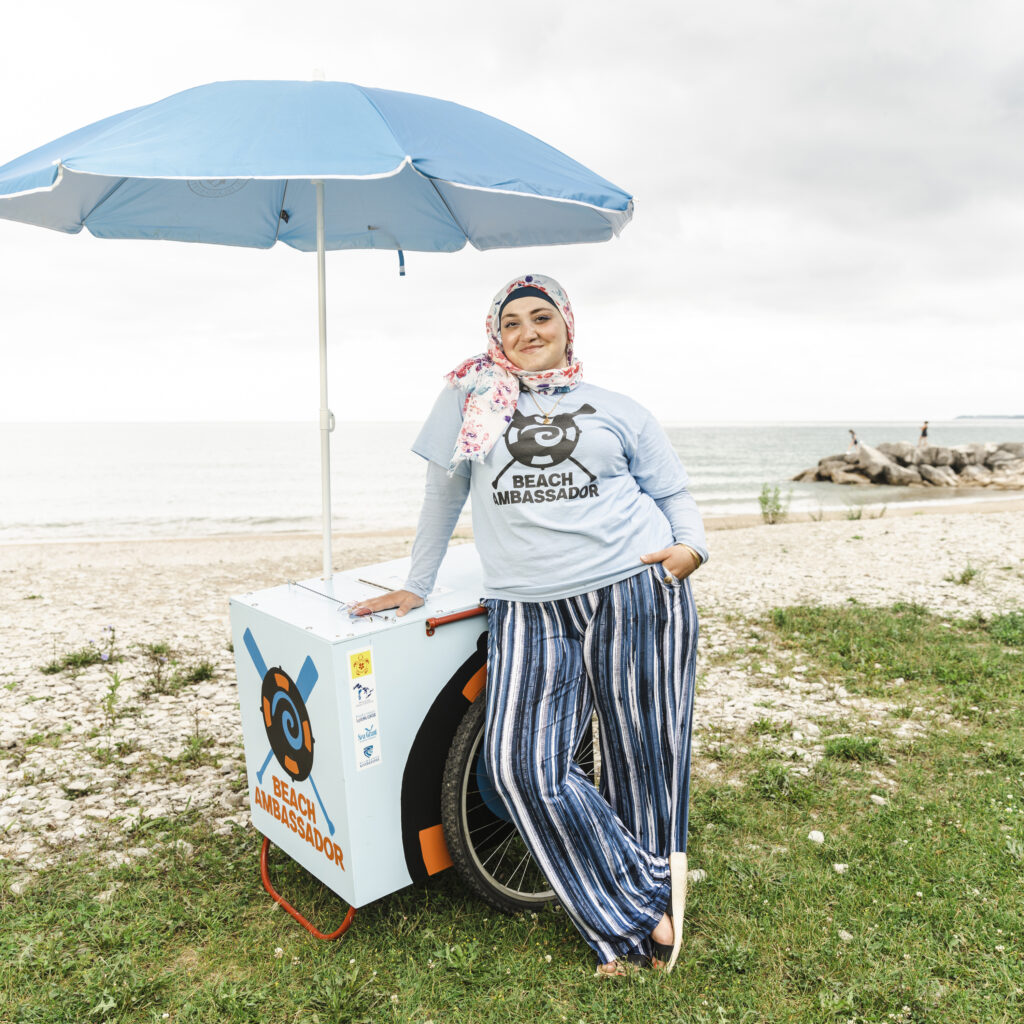 As part of the Beach Ambassador program at Bradford Beach in Milwaukee, Jumana tanner pushed an ice cream cart across the sand. Instead of frozen treats, the cart contains brochures and other information that beachgoers need to keep safe.
Lincoln Park community members had an important message to the legislature: Do not close the Schulz Aquatic Center at Lincoln Park. Neighborhood children and students joined their parents, grandparents and a few dozen other citizens at the Milwaukee County Courthouse to protest the closure of their pool. (Pictured: Ziambria (Ziggy) Halliburton and Rontasia (Roe Roe) Latson. Photo by Sally Callan.)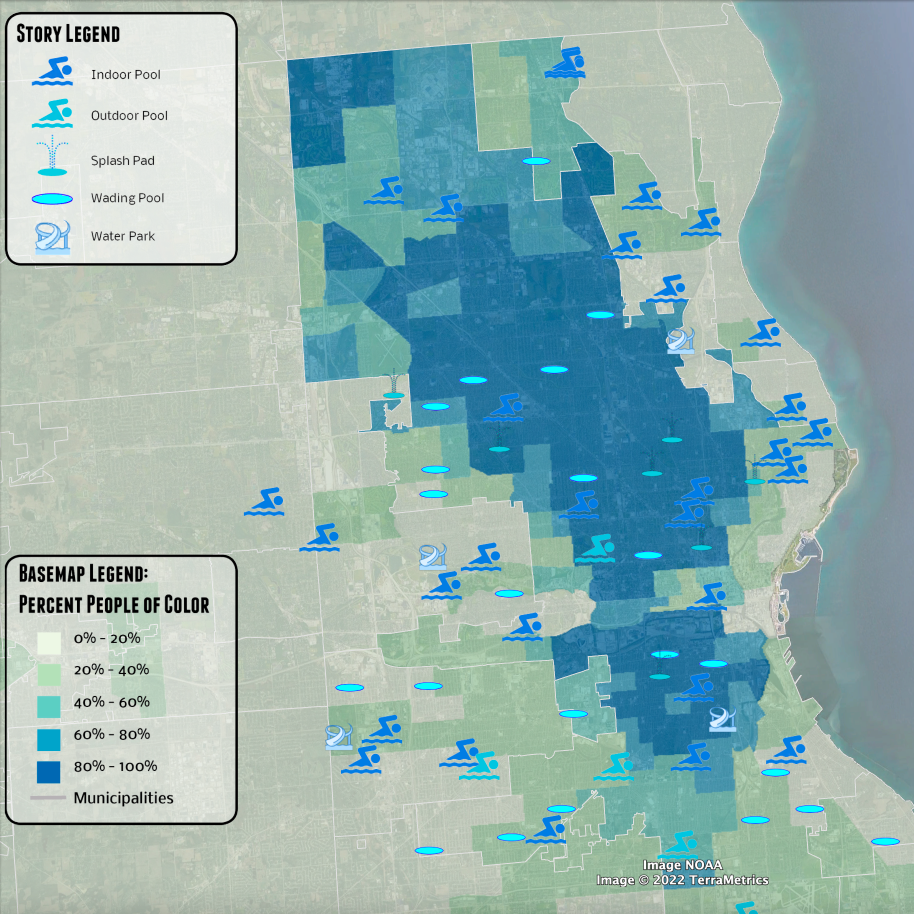 As part of her research, Dr. Deidre Peroff created this interactive Google Earth map with Reflo, a local nonprofit. The map, which shows Milwaukee pool locations throughout time, provided pivotal information that ultimately helped convince the Milwaukee County Board to keep the Schulz Aquatic center open.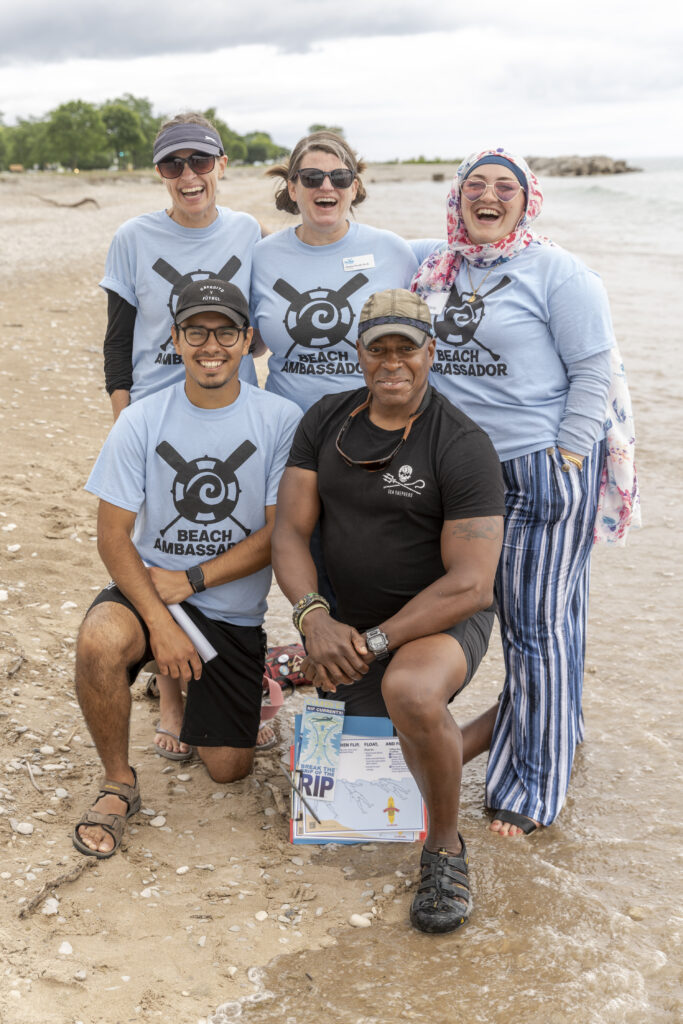 The Beach Ambassador Pilot Project was started by Wisconsin Sea Grant, Milwaukee Water Commons, Milwaukee Riverkeeper, Coastline Services LLC and the Milwaukee Community Sailing Center. These organizations created the project in response to four drownings that occurred on McKinley Beach in Milwaukee in 2020, and an increase in beachgoers because of the pandemic. (From left to right: Rhonda Nordstrom, Cesar Castillo, Deidre Peroff, Lloyd Seawright, Jumana Tanner)
Jumana Tanner, University of Wisconsin-Madison
Brenda Coley, Milwaukee Water Commons
Deidre Peroff, Wisconsin Sea Grant
Sally Callan, Lincoln Park neighborhood organizer
Cheryl Bledsoe, Lincoln Park neighborhood organizer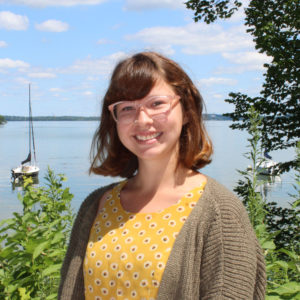 Video Producer
What I do at Sea Grant
As the videographer and digital storyteller, Bonnie uses her video and animation skills to showcase the stories of Wisconsin Sea Grant.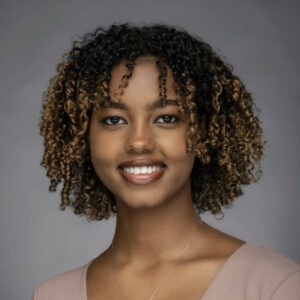 Hali Jama | Host
Student Podcast Producer
What I do at Sea Grant
Hali brings her background in social justice, business and marketing to Wisconsin Sea Grant, where she is the co-producer and co-host of The Water We Swim In.