3. Public Trust: Testing the Waters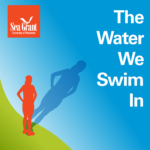 Are PFAS in maple sap, wild rice, fish and other harvestable goods important to the Anishinaabe way of life? These are some of the questions the Voigt Intertribal Task Force asked Gavin Dehnert, Wisconsin Sea Grant's emerging contaminants scientist, after PFAS were found in wolves. These questions became the central foundation of a 3-year tribally-driven research project to test the waters of the ceded territories for PFAS.
In this episode, Public Trust producer Bonnie tells Richelle about her trip to the Lac Courte Oreille reservation to join tribal members in harvesting maple sap. "Our tribal communities, we really depend on the maple syrup," said Kathleen Smith of the Great Lakes Indian Fish & Wildlife Commission (GLIFWC). "That's one of our first medicines that really awakens from our longtime winter… Of course there's gonna be a great concern with PFAS because you don't know how it's gonna impact the maple sap."
Smith, who's job title is Manoomin Ganawandang (she who takes care of the wild rice), is an avid harvester and gatherer. She is concerned about the impact of PFAS in wild rice, fish, and other harvestable goods, but she also urges caution when communicating about contamination.
"Our teachings say if we do not use the wild rice, it might go away and not feel appreciated." Smith hopes this research project will help educate tribal communities about PFAS without coming across as alarmist. "We want [our people] to continue to exercise their hunting, fishing and gathering rights."
The project spans from 2023-2026, and sample testing is in progress. The project is funded by the United States Geological Survey (USGS).
"It's a really nice example of tribally driven research that's important and it helps fill a void," said Jonathan Gilbert, Biological Services Director for GLIFWC. "I feel good about it."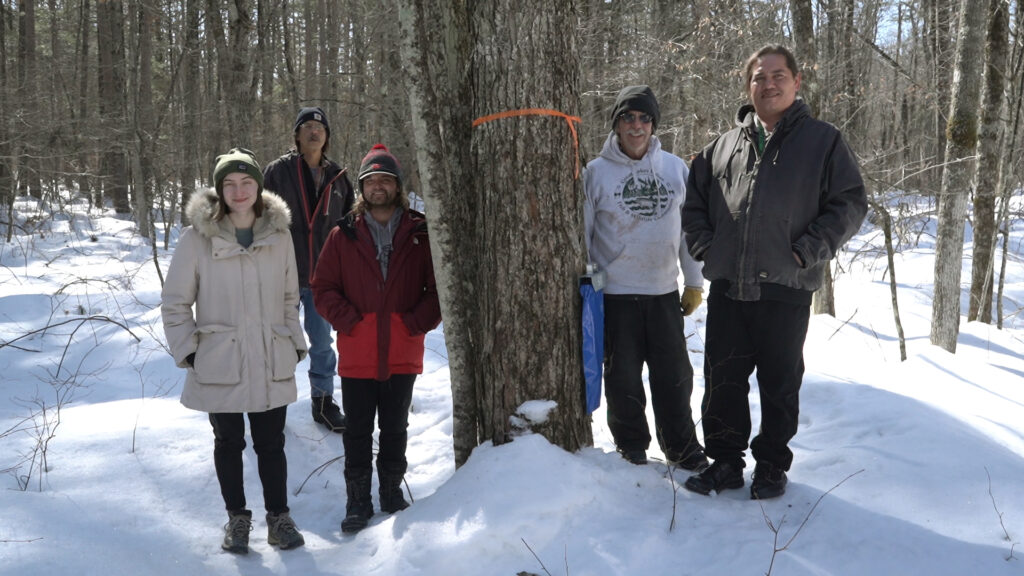 A research project team collects maple tree sap for PFAS sampling on Lac Courte Oreilles tribal land in spring 2023. Pictured, left to right, are Eve Milusich, University of Wisconsin-Madison; Andre Bennett, Lac Courte Orielles Ojibwe University; Gavin Dehnert, Wisconsin Sea Grant; Jonathan Gilbert, Great Lakes Indian Fish and Wildlife Commission; and Zhewaab Reggie Cadotte, Lac Courte Orielles Ojibwe University. Image credit: Wisconsin Sea Grant
Eve Milusich collects maple sap for testing. Image credit: Wisconsin Sea Grant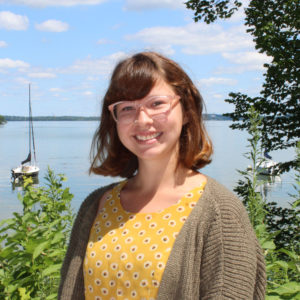 Video Producer
What I do at Sea Grant
As the videographer and digital storyteller, Bonnie uses her video and animation skills to showcase the stories of Wisconsin Sea Grant.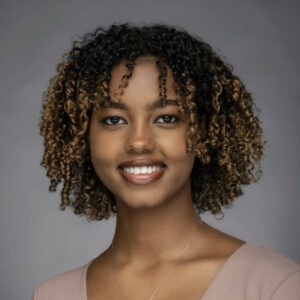 Hali Jama | Host, Season One
Student Podcast Producer
My time at Sea Grant
Hali brought her background in social justice, business and marketing to Wisconsin Sea Grant during her 2021-2022 internship. She co-produced and co-hosted season one of The Water We Swim In.