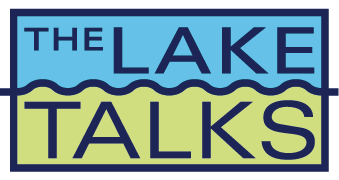 The Lake Talks was a series of free, informal talks–either online or in communities near the Lake Michigan shoreline–that address issues of relevance to those communities or the Great Lakes as a whole. Each event included time for audience interaction and discussion.
The series kicked off March 4, 2020, with an event in Green Bay. Remaining spring 2020 events were postponed due to COVID-19. Events from fall 2020 onward were held via Zoom. With staffing changes, the series is on hiatus, but you can watch recordings of past events from the list below.
Past events (in reverse order)

May 12, 2022 — "Harmful algal blooms and your health" with Jordan Murray, Wisconsin Water Resources Science-Policy Fellow. Learn practical steps you can take to avoid exposure to HABs and keep yourself, loved ones and pets healthy while enjoying Wisconsin's abundant lakes this summer. (Watch a recording of this event.)
April 28, 2022 — "Sea Grant at 50: Looking back, moving forward." Wisconsin Sea Grant Director Jim Hurley reflects on Sea Grant's past, present and future as the organization celebrates its 50th anniversary as a Sea Grant College Program. (Watch a recording of this event.)
March 17, 2022  —"Fish on land? The growth of land-based fish farming." A trio of panelists discussed aquaculture (fish farming) with a focus on recirculating aquaculture systems. Topics included aquaculture research and outreach going on here in Wisconsin. Panelists also talked about how U.S. fish farming and wild-caught fisheries can go hand in hand to supply sustainable seafood to American consumers. Panelists were Emma Hauser, Dr. Catherine Frederick and Dr. Jesse Trushenski. (Watch a recording of this event.)
Feb. 17, 2022 — "What's next for the Wisconsin Shipwreck Coast National Marine Sanctuary?" Learn about the Wisconsin Shipwreck Coast National Marine Sanctuary along Lake Michigan, which was officially designated in 2021. Speaker Russ Green also discussed several ongoing projects both on and off the water. The sanctuary encompasses 36 known shipwrecks and stretches along the Lake Michigan shoreline in Wisconsin waters adjacent to Ozaukee, Sheboygan, Manitowoc and Kewaunee counties. Green is the Great Lakes regional coordinator for the NOAA Office of National Marine Sanctuaries. (Watch a recording of this event.)
Dec. 9, 2021 — "Place, identity and the Great Lakes region: a conversation with poet Moheb Soliman." Minnesota-based Moheb Soliman hails from Egypt and the Midwest. His poetry collection HOMES (Coffee House Press, 2021) is part contemporary nature poetry and part immigrant travelogue as he seeks to inhabit an entire region as home. This conversation-style event also featured Anne Moser of the Wisconsin Water Library. (Watch a recording of this event.)
Nov. 11, 2021 — "Maadagindan! (Start Reading!) Literature for Young People about the Great Lakes and Ojibwe Culture." This event covered books for young readers on Great Lakes topics from the perspectives of Ojibwe authors, and the formation of a new, related book club that will launch in 2022. Speakers: Morgan Coleman, Hannah Arbuckle, Anne Moser. (Watch a recording of this event.)
Oct. 14, 2021  — "Shipwrecks of Wisconsin" with speaker Caitlin Zant, maritime archaeologist with the Wisconsin Historical Society. Attendees learned about hidden history beneath our waters and explored some of Wisconsin's 750 Great Lakes shipwrecks. Watch a recording of this event.)
Sept. 23, 2021  — "Understanding Flood Resilience in Your Community" with Jackson Parr, the J. Philip Keillor Flood Resilience-Wisconsin Sea Grant Fellow. Parr described a tool called the Flood Resilience Scorecard, which helps communities assess their level of flood preparedness and their readiness for dealing with the health impacts that often follow floods. Watch a recording of this event on our YouTube channel.
May 6, 2021 — "How the Great Lakes drive outdoor recreation and Wisconsin tourism," with Wisconsin Department of Tourism Acting Secretary Anne Sayers and Office of Outdoor Recreation Director Mary Monroe Brown. As the top driver of visits to the Badger State–which boasts 800 miles of Great Lakes shoreline–outdoor recreation plays a major role in the success of our tourism industry. Watch a recording of this event on our YouTube channel.
April 15, 2021 — "Forever chemicals: PFAS in the Green Bay watershed," with Dr. Sarah Balgooyen. Watch a recording of this event.
March 29, 2021 — "What cartoon zebra mussels taught me about invasive species communication," with Tim Campbell, Wisconsin Sea Grant Aquatic Invasive Species Outreach Specialist. Campbell discussed research on how metaphors—such as aquatic invasive species as "hitchhikers" or "invaders"—affect how people perceive the issues, and how certain metaphors pose ethical issues or may not lead to productive engagement. Watch a recording of this event.
November 12, 2020 — "How to Eat Wisconsin Fish" with Titus Seilheimer, Wisconsin Sea Grant fisheries outreach specialist. Local fish is healthy and delicious! Titus demonstrated how to make a smoked whitefish dip. Chef Jeff Igel of Fox Valley Technical College prepared Atlantic salmon two ways. Near the end of the hour, Titus, a fisheries biologist who works closely with Wisconsin's commercial fishing industry, answered questions about fish. Watch a recording of this session: choose the full event (56 min.) or skip to Titus' introduction to smoked fish (8 min.) or watch him make his smoked fish dip (6 min.).
October 22, 2020 — "Green Bay: A Saga of Life, Destruction and Restoration," with Cadie Olson and Brandon Falish, University of Wisconsin-Green Bay graduate students. Watch a recording of this event.
September 24, 2020 — "Tree Army Reboot: Updating the Legacy of the Civilian Conservation Corps" with Chris Litzau, Director of the Great Lakes Community Conservation Corps. Watch a recording of this event.
September 10, 2020 — "But It's So Pretty: Combating Purple Loosestrife With Biocontrol and Look-alikes" with Molly Bodde, Wisconsin Sea Grant aquatic invasive species outreach specialist for southeast Wisconsin. (Sorry, no recording available.)
March 4, 2020, Neville Public Museum, Green Bay (in-person event) — "Setting Sail for Great Lakes Learning" with panelists Kelly Koller, Dave Landers and Christina Dzwonkowski. Find a recap of this event on our blog.