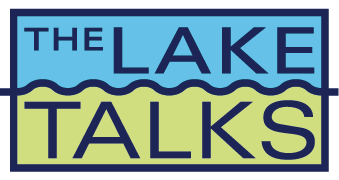 The Lake Talks is a series of free, informal talks in communities along or near the Lake Michigan shoreline (or online), addressing issues of relevance to those communities or the Great Lakes as a whole. Each event includes time for audience interaction and discussion.
The series kicked off March 4, 2020, with an event in Green Bay. Remaining spring 2020 events were postponed to fall due to COVID-19. All fall 2020 events were held online via Zoom.
Questions? Contact the series coordinator, Wisconsin Sea Grant science communicator Jennifer Smith.
Upcoming: Stay tuned for announcements about future Lake Talks!
Past events (spring 2020, fall 2020, spring 2021)

May 6, 2021 — "How the Great Lakes drive outdoor recreation and Wisconsin tourism," with Wisconsin Department of Tourism Acting Secretary Anne Sayers and Office of Outdoor Recreation Director Mary Monroe Brown. As the top driver of visits to the Badger State–a state that boasts 800 miles of Great Lakes shoreline–outdoor recreation plays a major role in the success of Wisconsin's tourism industry. Watch a recording of this event on our YouTube channel.
April 15, 2021 — "Forever chemicals: PFAS in the Green Bay watershed," with Dr. Sarah Balgooyen. Watch a recording of this event on our YouTube channel.
March 29, 2021 — "What cartoon zebra mussels taught me about invasive species communication," with Tim Campbell, Wisconsin Sea Grant Aquatic Invasive Species Outreach Specialist. Campbell discussed research on how metaphors—such as aquatic invasive species as "hitchhikers" or "invaders"—affect how people perceive the issues, and how certain metaphors pose ethical issues or may not lead to productive engagement. Watch a recording of this event on our YouTube channel.
November 12, 2020 (online) — "How to Eat Wisconsin Fish" with Titus Seilheimer, Wisconsin Sea Grant fisheries outreach specialist. Local fish is healthy and delicious! Titus demonstrated how to make a smoked whitefish dip. Chef Jeff Igel of Fox Valley Technical College prepared Atlantic salmon two ways. Near the end of the hour, Titus, a fisheries biologist who works closely with Wisconsin's commercial fishing industry, answered questions about fish. Watch a recording of this session: choose the full event (56 min.) or skip to Titus' introduction to smoked fish (8 min.) or watch him make his smoked fish dip (6 min.).
October 22, 2020 (online) — "Green Bay: A Saga of Life, Destruction and Restoration," with Cadie Olson and Brandon Falish, University of Wisconsin-Green Bay graduate students. Watch a recording of this event on our YouTube channel.
September 24, 2020 (online) — "Tree Army Reboot: Updating the Legacy of the Civilian Conservation Corps" with Chris Litzau, Director of the Great Lakes Community Conservation Corps. Watch a recording of this event on our YouTube channel.
September 10, 2020 (online) — "But It's So Pretty: Combating Purple Loosestrife With Biocontrol and Look-alikes" with Molly Bodde, Wisconsin Sea Grant aquatic invasive species outreach specialist for southeast Wisconsin. (Sorry, no recording available.)
March 4, 2020, Neville Public Museum, Green Bay — "Setting Sail for Great Lakes Learning" with panelists Kelly Koller, Dave Landers and Christina Dzwonkowski. Find a recap of this event on our blog.