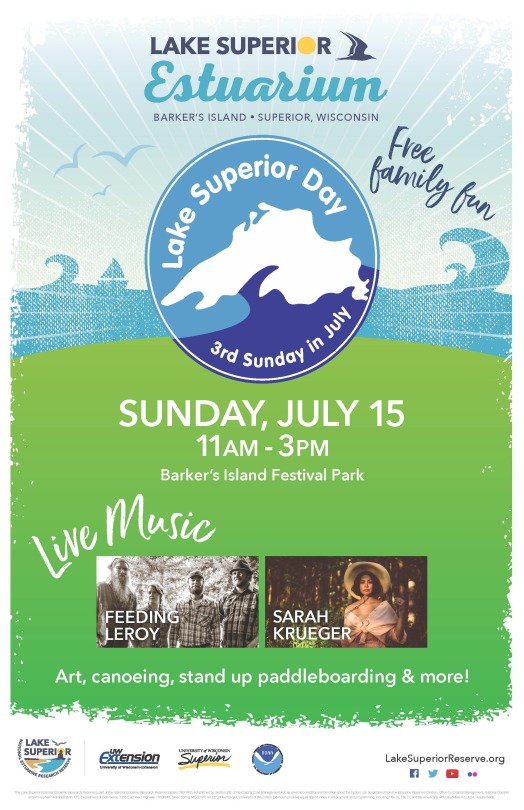 Lake Superior Day is happening this Saturday, July 15, from 11 am – 3 pm on Barker's Island in Superior. Focused on celebrating and appreciating the greatest Great Lake, the event will include free family fun with live music, kids' activities and much more.  Stop by and visit our Wisconsin Sea Grant booth in the information tent!
Prior to the festivities, North Shore SUP will host the inaugural Paddle for the People free recreational paddle race around Barker's Island. There will be a mandatory check-in from 8:30 to 9:30 a.m. with the race beginning at 10 a.m. Following the event, North Shore SUP will offer free stand-up paddleboarding demonstrations.
Music performances start at 11:45 a.m. and will feature local musicians Feeding Leroy and Sarah Krueger. Organizations from throughout the Twin Ports will have activities for Lake Superior learning with a children's fun tent hosted by the Lake Superior National Estuarine Research Reserve.  
Lake Superior is the cleanest, coldest, and clearest of the Great Lakes. The largest lake by surface area in the world, it fuels local shipping, commercial fishing, and recreational industries while providing a source for clean drinking water. Every day, each of the 600,000 residents of the Lake Superior basin use water from the lake for drinking, home use, industrial use, or recreation. The lake is essential for countless fish, birds, animals, and plants.  
Lake Superior Day was started in the early 1990s to highlight the importance of this great water body to the basin's environment and economy. This year's event is coordinated by the Lake Superior National Estuarine Research Reserve, a federal reserve encompassing over 16,000 acres along the St. Louis River freshwater estuary.