As I write this blog post it's Monday, the start of the workweek. I consider myself among the lucky not to slip into remorse, anxiety or both on a Sunday evening when faced with the coming five days. I have a job I truly enjoy. One reason is, if it weren't for my employment, I likely would never have met the dedicated and interesting group of three women who make up the Maritime Preservation Program at the Wisconsin Historical Society.
Tamara Thomsen, Caitlin Zant and Tori Kiefer study and document our state's underwater historical assets as a way to chronicle and commemorate the past. "Diligent" and "prolific" are two good adjectives that describe their efforts. Thanks to their industriousness, no other state has more shipwrecks listed on the National Register of Historic Places.
They also maintain an online resource for the wrecks at wisconsinshipwrecks.org If you are a diver, they ensure your best understanding of the wreck close up by placing mooring buoys at the sites, as well as offering educational dive slates.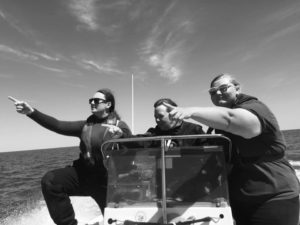 The trio further embraces the role of ambassador for these cultural resources. Last year alone, they offered 34 public presentations that reached nearly 3,000 people. Part of this outreach is to ensure everyone, whether a diver or not, can access the maritime past. Their presentations are one way that happens.
Another is the statewide Maritime Trails network. The trail just keeps expanding. This fall, a new sign is destined for Kewaunee as part of a new harbor and lighthouse walk. The topic is railroad car ferry service. Milwaukee will also get new signs—about lake sturgeon, self-unloading barges and the wreck of  the Tanner, which led to the establishment of Milwaukee's Life-Saving Service.
Tamara and the rest of the team put a lot of effort into getting these signs accurate and interesting. They are also always thoughtful enough to ask me to give the signs a read and the chance to offer suggestions.
This latest group of signs took a fair bit of back-and-forth editing, but in the end, I think the communities will be pleased to have them along their shores. Plus, anyone who visits the signs will gain a greater understanding of and appreciation for our underwater treasures and the people who document them, like Tamara, Caitlin and Tori.