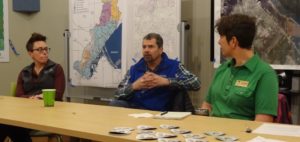 By Martyann Birman, University of Wisconsin-Superior
The first River Talk of 2019 kicked off on Wednesday, Jan. 9, at the Lake Superior Estuarium. Eager listeners heard a panel of experts discuss the many environmental and lifestyle impacts we have on our urban streams.
Tiffany Sprague with the Natural Resources Research Institute, Andrea Crouse with the city of Superior, and Todd Carlson with the city of Duluth, answered questions at the science cafe-style talk. Given the time of year for the Northland, one of the hot topics of the night was road salt.
"We have fresh water here, we want to keep it fresh," Andrea said. "About one teaspoon of salt is enough to contaminate five gallons of water to the point where it is toxic to aquatic life."
Salt is considered a permanent pollutant. Once it is applied, ice and snow melt, and take with it the salt, which then travels into our streams and into the lake. Once there, it is a danger to fish, waterfowl, bugs and aquatic plant life.
So just how do we keep ourselves safe, while also protecting the sensitive ecosystems of our urban streams — and ultimately — our lake? According to Tiffany, education and outreach across municipalities is vital.
Adds Todd, "The biggest thing is, applying the right product, at the right time, at the right rate."
The Regional Stormwater Protection Team, a local group of towns and agencies devoted to preventing pollution from rain and snowmelt, has started a Salt Smart! initiative to help residents understand and apply best practices when it comes to salt. Under it, they recommend you:
Remove as much snow and ice as possible before you salt.
Scatter with three inches between grains.
Avoid salting when temperatures are below 15 degrees.
An underlying theme of each speaker reflected that, while a large part of living where we do revolves around the snow and ice, it is in those warmer months that we must not only feel thankful, but strive to protect our great landscape and resources.
"Duluth has 16 designated trout streams. We've got high quality water. In a city that's 26 miles long, to have 16 trout streams is very unique," Todd said. "The city of Duluth has over 50 named streams, while the city of Superior has seven."
Stormwater brings other issues with it besides salt pollution, and much of the rest of the talk focused on those topics.
"We live in an urban area and we have stormwater, which means that everything we do on our landscape has an impact on our urban streams. Everything from mowing your lawn, to adding fertilizer, to how or where you wash your car, all of that has a downstream impact," Tiffany said.
All three panelists, along with the cities of Duluth and Superior, want to urge residents to understand the impacts they have on what ends up in these urban streams, and ultimately our lake.
"Stormwater, once it falls onto the land, it's going to flow off into the nearest water body without treatment, and that's a big part of what we do. We try to apply best practices that have been studied and researched, so we can do the best that we can to try and get that stormwater that falls on the land to the nearest stream, and ultimately to Lake Superior, in the best quality that it can be," Todd said.
Both cities have created community outreach programs for residents to get involved. The crowdsourced CrowdHydrology gauge program can be found in various parks and along trails. Residents can simply walk to one of these gauge sites and text the day's numbers to report stream height values to a public accessible database and various research facilities.
In Superior, the Superior Citizen Stream Monitoring Program and Adopt a Drain Program facilitate hands-on opportunities for residents and businesses. Through these programs, volunteers gain knowledge about local watersheds, test, monitor, and report findings themselves and keep local waterways clean.
Information on these two programs, as well as a plethora of other information regarding urban streams, can be found by visiting: www.lakesuperiorstreams.org, and the city of Superior website.
River Talks is an informal monthly series about the St. Louis River Estuary held at the Lake Superior Estuarium on Barker's Island in Superior, Wisconsin, hosted by the Lake Superior National Estuarine Research Reserve and the Minnesota and Wisconsin Sea Grant programs.
The next talk will take place at 7 p.m. on Feb. 13 and will focus on emergency management in the estuary.