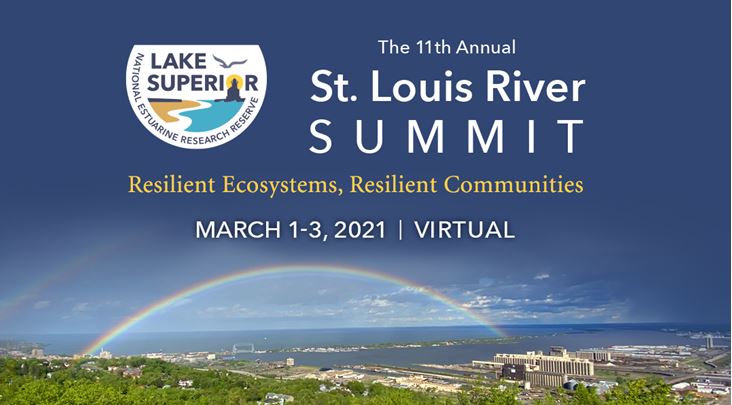 The Lake Superior National Estuarine Research Reserve (Lake Superior Reserve) is holding its 11th annual St. Louis River Summit March 1-3 via the virtual platform Zoom.
The theme for the summit is, "Resilient Ecosystems, Resilient Communities," which highlights the ways the St. Louis River Estuary contributes to community well-being in the Twin Ports and beyond. The goal of the summit is to bring together key audiences working in the region to share information about the St. Louis River and encourage coordination of activities and funding proposals.
"We are adapting the event to fit a virtual format but will provide the opportunities for engagement that are a central feature of the summit. Yes, there will still be a poster session, a River Talk, and chances to connect with colleagues and community," said Deanna Erickson, Lake Superior Reserve director. "We hope people will join us to learn about and celebrate the healing power of the estuary as we share our successes and look toward the future."
Keynote speakers include photographer and author Dudley Edmondson and longtime Great Lakes champion Cameron Davis. Edmondson will present, "The Disconnect Between African Americans and the Outdoors." Davis will present, "A Field Guide to Hugging the St. Louis River."
On March 1, a special meeting will take place where participants can learn about a collaborative effort to sustain the health of the estuary once it's no longer a U.S. EPA-designated Area of Concern. That session is called "St. Louis River Landscape Conservation Design Project System Analysis Update."
A virtual poster session will take place 4 p.m. on Tuesday, March 2. Also, the Friends of the Lake Superior Reserve (FOLSR) will hold a legislative listening session, time TBD.
During the morning of March 3, small-group, socially distanced field trips will be held. Options include birding with the FOLSR, Kingsbury Bay and the Waabizheshinkana Trail, snowshoeing near Pokegema Bay, and revitalization efforts on and around Barker's Island.
At 7 p.m. on March 3, a virtual presentation will feature poets from across the country reading their poems about rivers. This "River of Poems" is being held as part of the popular monthly River Talk series, which is free and open to all.
Students from local schools and institutions are invited to attend the summit to learn more about the research community and river projects. Students are free but need to register.      
The cost to attend the summit is $30. To register and view the agenda, visit lakesuperiorreserve.org/summit/.
Initial sponsors include Duluth Pottery, the Duluth Seaway Port Authority, the Friends of the Lake Superior Reserve, the Great Lakes Maritime Research Institute, the Lake Superior Research Institute, the Large Lakes Observatory, LimnoTech, Inc., the Minnesota Land Trust, Roen Salvage Company, the University of Minnesota Duluth Natural Resources Research Institute, the Western Lake Superior Sanitary District, the Wisconsin Coastal Management Program, the Wisconsin Department of Natural Resources, Wisconsin Sea Grant, and the United States Environmental Protection Agency.