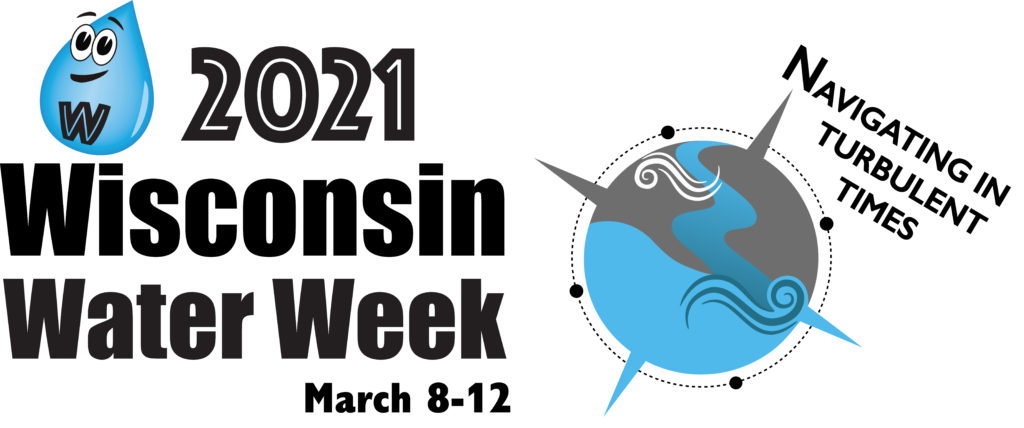 Wisconsin Water Week—March 8 to 12—is almost upon us, and this year's theme is "Navigating in Turbulent Times." A virtual conference organized by the Wisconsin Lakes Partnership will explore many facets of this precious resource and give attendees a chance to network with others interested in water.
Several Wisconsin Sea Grant staff and fellows are involved as presenters, virtual exhibitors or session organizers. To help you take advantage of Sea Grant-connected offerings during Wisconsin Water Week, we've pulled together the handy list below.
To learn more about the conference, you can watch a teaser video on YouTube, or view the agenda and registration link.
Wisconsin Sea Grant participation in Wisconsin Water Week 2021:
Exhibitors with booths March 8-10: Sharon Moen (Eat Wisconsin Fish), Anne Moser (Wisconsin Water Library)
Monday, March 8
12-12:45 p.m.
Wisconsin Coastal Management Program and Living on the Edge: Updating the Coastal Processes Manual to Promote Resiliency on Wisconsin's Great Lakes Shorelines
Speakers: Lydia Salus and Adam Arend
12:45-1:30 p.m. (Exhibitor: Eat Wisconsin Fish)
Let's eat trout: cooking demo and discussion
Sharon Moen
Tuesday, March 9
10:40-11 a.m. (Exhibitor: Eat Wisconsin Fish)
Wisconsin's fish farmers and commercial fishers: presentation and discussion
Sharon Moen
3-3:30 p.m. (Exhibitor: Eat Wisconsin Fish)
Let's eat smoked fish: cooking demo and discussion
Sharon Moen
3:30-4:30 p.m. Lightning talks
AIS Messaging Frames
Speaker: Tim Campbell
Wednesday, March 10
8:30-9:30 a.m. Combined Session
The aquatic invasive species prevention knowledge, behaviors, and beliefs of Wisconsin boaters
Speaker: Tim Campbell
9:30-10 a.m. (Exhibitor: Eat Wisconsin Fish)
Wisconsin's fish farmers and commercial fishers: presentation and discussion
Sharon Moen
10-11 a.m.
Behind the Scenes of Introduced: a Podcast about Aquatic Invaders and Wisconsin's Changing Waters
Speakers: Bonnie Willison and Sydney Widell
11 a.m.-noon
Tackling Wisconsin's Water Challenges through UW Water Science-Policy Fellowships and Agency Partnerships
Speakers: Jen Hauxwell and Aquatic Sciences Center fellows
Noon-12:45 p.m. (Exhibitor: Eat Wisconsin Fish)
Let's eat lake whitefish: cooking demo and discussion
Sharon Moen
Thursday, March 11
10:35-11:15 a.m.
Tourism futures: adapting outdoor recreation & tourism to climate change & changing visitation in Northern Wisconsin
Moderator/organizer: Natalie Chin
1:15-2:15 p.m.
Building Resilience in the Lake Superior Basin: Using Green Infrastructure & Natural Management to Reduce Flood Impacts
Moderator/organizer: Natalie Chin
1:15-2:15 p.m.
Showcasing the Coastal Resource Hub
Speakers: Deidre Peroff and Amy Lentz