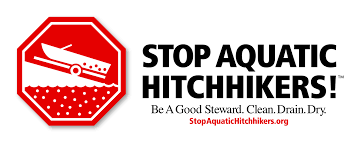 While all invasive species are unwanted in some regard, they all can't make the Spring Thaw Throwdown Least Wanted Tournament. The selection committee debated over many worthy species and feel strongly about the 16 that made this year's tournament.
For all of the bubble-watchers out there, below is a little information on the first four out of the tournament. We hope this can bring a little closure if your least favorite species didn't make the tournament.
Didymo (aka rock snot)
Tough draw for Didymo. While the rock snot have a great mascot, they've fallen on tough times in the algae league. There's some controversy as to whether or not they even belong in this least wanted AIS tournament because of some evidence that the rock snot are native to the Great Lakes region. With a cloud like they hanging over your program, it's understandable that they're on the outside looking in.
Bloody red shrimp
Another program with a great mascot, but not the impacts to get out of the strong macroinvertebrate conference. Sure, they can get really abundant, and when you're that abundant, there has to be an impact, right? However, when you have standout species with a track record of impacts like the dreissenids and rusty crayfish, plus the large water-quality impacts spiny water flea can have on just one lake, it's easy to see how the bloody red shrimp just can't be even one of the top four least wanted in their division.
Grass carp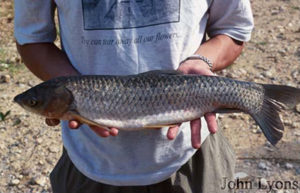 The grass carp (pictured at left) is one of those species that just doesn't get enough credit. While other fish may be more flashy by jumping out of the water or by having some pretty nasty teeth, the grass carp are just out there chowing down on all the plants and reproducing in a Lake Erie river (unlike some other carp species). Their impacts kind of go under the radar and maybe didn't meet the eye test of the committee. Maybe had a grass carp met the face of someone on the selection committee, we would see them in the tournament?
Largemouth bass reovirus
This recently discovered virus is just too new and has too few documented impacts for it to win its way into the Spring Thaw Throwdown Least Wanted Tournament. This virus was discovered as part of a fish kill in northern Wisconsin in 2016 and more work needs to be done to determine if it was the primary cause of the fish kill. However, the selection committee will be keeping its eye on this new program to see if it can someday warrant inclusion into the Wetland/Virus Division.
Fill out your Spring Thaw Throwdown bracket