Yesterday, on a day when parts of Wisconsin were predicted to receive up to 10 inches of snow, our staff welcomed balmy of images of Guam. While folks in our Superior and Green Bay offices could see snow gently falling outside their windows, they could then turn to their computer screens and view a WebEx presentation featuring azure waters and filigreed coral.
Austin Shelton, associate director for Guam Sea Grant, was the bearer of these images. He visited our Madison office to discuss his program, the smallest and newest among the 33 that make up the Sea Grant Network, to give a rundown on their efforts centered more than 7,000 miles away in the middle of the Pacific Ocean.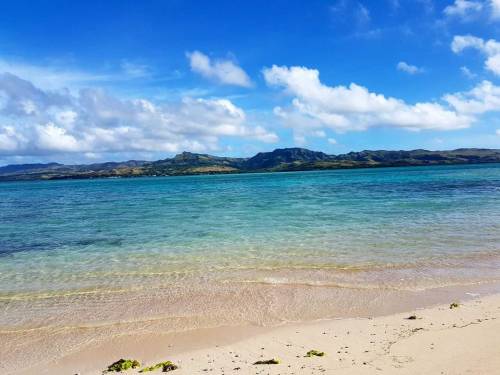 Wisconsin staff had many questions about Shelton's program, which focuses on the themes of healthy coastal ecosystems and environmental literacy and workforce development.
Shelton, who is also the executive director of the University of Guam's Center for Island Sustainability and coordinates education, outreach and diversity activities as a co-principal investigator in the university's Established Program to Stimulate Competitive Research Program, noted challenges facing the 33-by-8-mile island populated by 160,000 people.  
These challenges include pressure from commercial development; a significant buildup in U.S. military presence; and arson on the hillsides, courtesy of poachers who want to lure deer with the tender green shoots that will eventually emerge after the fires. But before the grass grows, the fires denude the hills, leading to sediment erosion, which ends up in the oceans, smothering coral reefs and killing fish.
Since it's a Sea Grant program, though, many positive initiatives are underway. The program reaches 5,000 people each year through community events, school visits and watershed adventures to educate about sustainability of the island. There's also an effort to work with off-road vehicle sales dealers to minimize hillside damage. Finally, program staff are exploring innovative drone-delivered seed mixes to reforest the hillsides.
Although Guam Sea Grant is on the other side of the international date line, and it also has differences in culture, topography and habitat, we discovered commonalities between our two programs. Guam Sea Grant's mission is bringing science to the community, which mirrors ours in the Dairy State a bit: promoting the sustainable use of the Great Lakes through research, education and outreach.
We also discovered our approaches for supporting graduate students in their science career trajectory are similar.
On a snowy day, it was a great tonic to reflect on our shared purpose. It also didn't hurt to look at photos of coral reefs while doing it.