For the latest "dish" about Great Lakes fish, you'll want to listen to "The Fish Dish." The podcast, co-hosted by longtime coworkers and friends Sharon Moen and Marie Zhuikov, introduces you to the people behind Wisconsin's fishing and aquaculture industries. Each episode includes a "Fish-o-licious" section where Moen and Zhuikov cook a new fish recipe.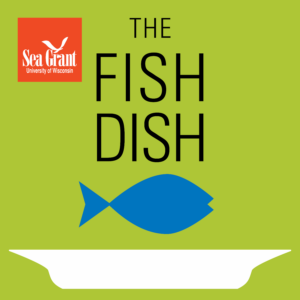 The first episode features Craig Hoopman, a sixth-generation commercial fisherman from Bayfield, Wisconsin. Hoopman shares his beginnings in the business, current challenges, plus his dreams for the future. Also, Eat Wisconsin Fish Outreach Specialist Moen and Science Communicator Zhuikov share their backgrounds in fishing and introduce listeners to the Eat Wisconsin Fish campaign. During the "Fish-o-licious" part of the show, they cook Greek-Style Lake Whitefish at Hoopman's recommendation.
Tying it all together is ska music by Twin Ports band, Woodblind.