Sea Grant won two communications awards in an international competition sponsored by Apex. Awards are based on excellence in graphic design, editorial content, and the ability to achieve overall communications effectiveness. APEX Grand Awards honor the outstanding works in each main category, while APEX Awards of Excellence recognize exceptional entries in each of the individual subcategories.
The Trash Trunk, marine debris teaching tool, won a Grand Award in one-of-a-kind publications. The material was designed by Yael Gen, edited by Elizabeth White and written by education specialist Ginny Carlton, with contributions from other educators throughout the Great Lakes Basin.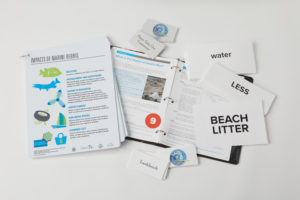 The video Past, Present and Future Ciscoes: Wisconsin Sea Grant Research, produced by Bonnie Willison, won an Award of Excellence about this prevalent and varied fish species in Great Lakes waters.
"Both Yael and Bonnie are masters of their craft. They understand how best to reach audiences with engaging and informative pieces," said Moira Harrington, assistant director for communications. "We are so proud of them. These awards only serve to confirm what we already know—they help us act as better stewards of the Great Lakes because they elevate our collective understanding of the freshwater seas."  
An invitation designed by Yael Gen for an event commemorating Groundwater Awareness Week also won an Award of Excellence that went to Sea Grant's sister organization, the University of Wisconsin Water Resources Institute.
The competition drew nearly 1,200 entries from around the world, including from Fortune 500 companies, nonprofits and academic units.