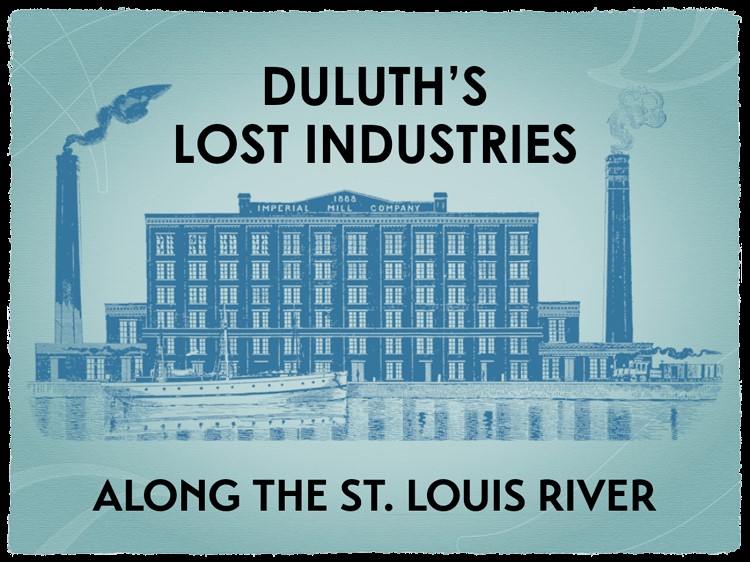 The River Talks, a series of informal science presentations, returns at 6:30 p.m. Wednesday, Oct. 11, for the season with "Duluth's Lost Industries Along the St. Louis River," an in-person presentation by local historian and author, Tony Dierckins. His talk will be held at the Lake Superior Estuarium (3 Marina Dr., Superior, Wis.). Refreshments will be provided.
The shores of the lower St. Louis River were once lined with ore and coal docks, grain terminals, flour and lumber mills, steel plants, shipyards and dozens of other manufacturers. From the brownstone quarries of Fond du Lac to Gary New Duluth's giant Minnesota Steel Plant, this presentation explains the rise and demise of the industries that both built the Zenith City and altered and contaminated Lake Superior's largest tributary. 
Tony Dierckins has written over two dozen books, many of which celebrate historic Duluth, Minnesota. He is a three-time recipient of the Northeast Minnesota Book Award, a past recipient of the Duluth Depot Foundation's Historic Preservation and Interpretation Award, and the publisher of Zenith City Press. 
Other River Talks will be held Nov. 8, 2023, and Jan. 10, Feb. 7, March 13, April 10 and May 18, 2024. For more information, visit the River Talks page: go.wisc.edu/4uz720.
The River Talks are sponsored by the Lake Superior National Estuarine Research Reserve and the Wisconsin Sea Grant Program.