The concept of work-life balance has found a foothold in contemporary culture. Under the concept, individuals are encouraged to, yes, undertake toil and tasks but also pause for recreation and reflection on life's non-laboring moments. It's a way to recharge.
Celebrating that balance, the recent 2023 Sea Grant and University of Wisconsin Water Resources Institute (WRI) Fellows Convocation and Awards Event brought together people who have worked—engaging in water science and sharing that science through policymaking, communication, education and extension—and then provided them with a recharging moment in the sun.
The event commemorated four award-winners, 21 post-graduate fellows, three undergraduate scholarship winners and 61 summer undergraduate scholars.
Congresswoman Gwen Moore received a 2023 Friend of Sea Grant Award. Moore has served the 4th District of Wisconsin for 19 years in the U.S. Congress, and prior to that she was a member of the Wisconsin Legislature. In both roles, she fostered the pursuit of understanding and science-based management of our state's water resources, saying she "did it for love."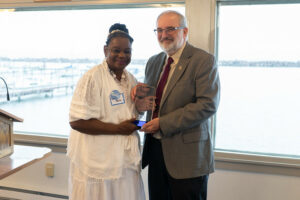 Moore further reminisced, "I remember the night that I won the nomination and won the seat to represent the 4th Congressional District. I thanked all the people who were there at the Hyatt Regency. Then, I said, 'Thank, God. I now get to represent Lake Michigan because my assembly districts didn't touch the lake.' And truly, since the day I have been there, I have leaned into doing anything and everything I can to preserve this treasure (as she pointed emphatically at the lake outside of event venue's windows) to not only Milwaukee, not only Wisconsin, but the world."
Another influential woman, Julie Kinzelman, was named Wisconsin Sea Grant Great Lakes Champion for 2023. She emerged from a competitive process that saw nominations come in for a number of impressive people and organizations across the Great Lakes Basin. This former public health official from Racine stood out to judges because of her sustained and far-reaching efforts to ensure access for everyone to coastal spaces.
The award is presented every two years to recognize a long-term commitment to the care and concern for the Great Lakes. Kinzelman is a founding member of the Great Lakes Beach Association, a network of 1,000 beach professionals from the U.S., Canada, Europe, Australia and New Zealand who share knowledge, prioritize research and discuss management.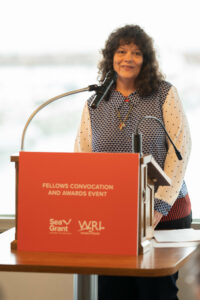 As a city employee, Kinzelman investigated the sources of beach pollution in Racine, tested her own remediation approaches, secured funding for research and mitigation and successfully completed many remediation projects transforming these Lake Michigan beaches from places of frequent closure into nationally recognized recreational destinations.
 "The work of Wisconsin Sea Grant, and its many collaborating partners, to promote the sustainable use of Great Lakes resources through research, education and outreach truly leads to thriving coastal ecosystems and communities," Kinzelman said. "The challenges facing the Great Lakes and their coastal communities are great, and the road long, but together incremental progress can made to the benefit of this one-of-a-kind internationally significant resource."
The 2023 Wisconsin Sea Grant Actionable Science Award went to J. Val Klump. He said, "I just went back through my records and looked at the support that Sea Grant provided me and my colleagues since I joined UW-Milwaukee in 1980, 14 research grants spanning 38 years. Without the Wisconsin Sea Grant Program, I think it is safe to say that I would not have had the research opportunities, many of which led to funding by other agencies, that were the basis of my career—and launched those of all of my doctoral students." He continued, "I am very humbled by this. And of course, I did not do this alone. I have had many wonderful colleagues and students."
Klump is the former dean and a retired professor from the School of Freshwater Sciences at the University of Wisconsin-Milwaukee. He spent more than 500 days at sea on research cruises as he studied how carbon and nutrients move through and influence the world's lakes. His work has informed policies set by the International Joint Commission and the National Oceanic and Atmospheric Administration (NOAA).
The final award-winner was Larry MacDonald, who said he was honored to take home the 2023 Wisconsin Sea Grant Distinguished Service Award. After a productive 24-year tenure with the Sea Grant Advisory Council, he is stepping down. MacDonald has also served as chairman of the Wisconsin Coastal Management Council and is a former mayor of Bayfield, Wisconsin. His wise counsel has been invaluable to the success of the Sea Grant program in fostering the health and use of the Great Lakes.
As for the many post-graduate and undergraduate students who were feted, they represent a bright future for water science in labs, the field, halls of policymaking and private industry. The group includes:
-Five Dean John A. Knauss Fellows. Four of the group completed their one-year Washington, D.C.-based experience in 2022 and the current fellow is Mary Solokas who is working in a NOAA office that facilitates research in dangerous or remote areas by using remotely operated instruments. Her placement is in the nation's executive branch, which is where three of the 2022 fellows landed. The fourth from 2022 was in the legislative branch, in the office of Sen. Jeff Merkley of Oregon.  
-Twenty-one post-graduate fellows. The majority of this group were or currently are placed in partner state or federal agencies providing their cutting-edge knowledge on topics such as PFAS contamination, resilience or harmful algal blooms to assist in solving difficult science-based challenges. In turn, the fellows gain real-world experience and mentoring from professionals in the U.S. EPA or Wisconsin departments of Administration, Natural Resources or Health Services. Three of this overall post-graduate cohort fall under the UW-Milwaukee Center for Water Policy – Sea Grant – Water Resources Institute Water Policy Specialists Program. Here, these emerging lawyers immerse themselves in applied research seeking multidisciplinary water policy solutions.
-Three winners of the Carl J. Weston Scholarship. It is presented in even-numbered years to undergraduate students working on a Wisconsin Sea Grant-supported project. The winners from 2022 were Hali Jama of UW-Madison who was a producer and on-air voice for a Sea Grant podcast, The Water We Swim In; Elisabeth Bautista who was a summer limnological researcher and is a UW-Madison student; and Daniel Sherman from UW-Milwaukee who is doing aquaculture research. This scholarship was established in 1995 by Dr. and Mrs. Carl B. Weston and is named in honor of their son Carl J. Weston.
-Ten undergraduates in 2022 and 11 in 2023. These students spent summers working alongside Sea Grant extension, education and communications staff members as part of the Summer Outreach Opportunities Program. The students came from across the nation and were selected through a competitive process that set them up for a 10-week experience to learn more about and contribute to ongoing work on topics such as water safety, aquatic invasive species education, fish sampling and video production. To prepare them for graduate studies or the workforce, whatever their path may be, the program also provided networking, training and a chance to publicly present their projects.
-Nine undergraduates in 2022 and 31 in 2023. These undergraduates were part of the Freshwater@UW Summer Research Opportunities Program. This program was piloted in 2022 thanks to Sea Grant, WRI, the University of Wisconsin-Madison Graduate School and the Freshwater Collaborative of Wisconsin. Significant contributions were also made by Water@UW Madison and the federal agency and faculty mentors who nurtured these students who came from across the nation to engage in hands-on, 10-week research experiences in freshwater fields. In 2023, the program was expanded and included mentors from campuses throughout the University of Wisconsin System, as well as external partners. The experience enhances workforce development skills and allows undergraduates to consider the option of graduate studies in Wisconsin. Research experience as an undergraduate is an important component of a successful application for graduate school. In the job market, it also sets apart recent undergraduates who have addressed the changing needs of water-related fields.
At the conclusion of last week's event, Sea Grant and Water Resources Institute Director Jim Hurley reflected on the dedicated and talented honorees: "Thank you for attending. Thank you for recognizing all of these people. Based on their work and commitment, we are all going to be OK." It's likely that the Great Lakes will be as well.