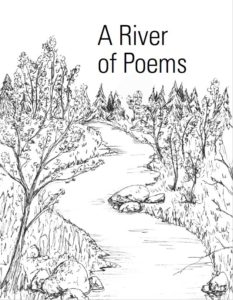 It's a thin volume with a worldwide span. In 2020, we sent out a call for river poems for The River Talks speaker series we hold with the Lake Superior National Estuarine Research Reserve. Poets were offered the opportunity to read their poems via Zoom during one of the River Talk monthly presentations.
Poets from across the world responded. With help from a judging committee, we narrowed the pool to a dozen poets, who read their works in March 2021 in conjunction with the St. Louis River Summit. The event was so moving, and the poems so well received, we created a publication to showcase them. "A River of Poems," is now available as a free download.
In "I Held Us on for 36 Hours After the Levee Broke to Hell," Heather Dobbins tells the story of a family who spends the night atop a phone pole to escape a raging river.
In "Catching Your Drift," Lorraine Lamey highlights the subtle humor in natural resource regulations for a river in Montana.
Poet Ron Riekki shares how water can be an antidote for PTSD from war in "It Took a Long Time to Discover."
A river in Detroit burns in Derold Sligh's "Rouge River" poem, heralding a cry for environmental and social justice.
Download the book here.