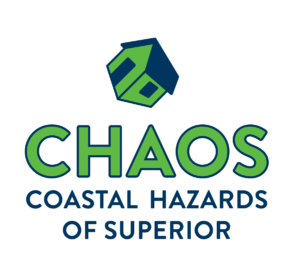 Information provided by Melanie Perello, Minnesota Department of Natural Resources
CHAOS has come to Lake Superior. However, it's organized chaos, so that's a good thing.
CHAOS stands for the Coastal Hazards of Superior. The group, organized by the Coastal programs and Sea Grant programs in Minnesota and Wisconsin, the National Oceanic and Atmospheric Administration Office for Coastal Management and the Lake Superior National Estuarine Research Reserve, is a community of practice for sharing knowledge and resources about natural hazards that affect Lake Superior coastal communities in Minnesota and Wisconsin.
It provides an opportunity for local community leaders, managers, researchers and communicators to engage over concerns about coastal hazards across western Lake Superior. Recent storms, flooding and shoreline erosion have strained local communities, making CHAOS' goal of building collaborations among groups impacted by these hazards even more important.
Membership is free and open to all. To join or for more information, contact Melanie Perello at Minnesota's Lake Superior Coastal Program: melanie.perello@state.mn.us.
The group hosted its first event on April 29, a webinar attended by more than 80 participants, featuring presentations on Lake Superior water levels and lakeshore flood modeling and forecasting. Deanna Apps, a physical scientist at the U.S. Army Corps of Engineers Detroit District, explained historical and recent lake levels, the drivers of water level fluctuations and how the Army Corps forecasts future conditions.
Joseph Moore, warning coordination meteorologist at the National Weather Service-Duluth Office, highlighted efforts to model and forecast lakeshore flooding events and explained the need for reports of lakeshore flooding storm damages.
Following the presentations, webinar participants had the opportunity to network in small breakout groups to discuss actions they will take in response to the information shared.
A recording of the presentations is available on Wisconsin Sea Grant's YouTube Channel.
U.S. Army Corps of Engineers – High water level resources
Apps highlighted several resources available from the U.S. Army Corps of Engineers:
Water Level Forecasts: https://www.lre.usace.army.mil/Missions/Great-Lakes-Information/Great-Lakes-Water-Levels/Water-Level-Forecast/
Water Level Observations: https://www.lre.usace.army.mil/Missions/Great-Lakes-Information/Great-Lakes-Information-2/Water-Level-Data/
Basin Conditions & Great Lakes Information: https://www.lre.usace.army.mil/Missions/Great-Lakes-Information/Great-Lakes-Information-2/Basin-Conditions/
Living on the Coast: https://publications.aqua.wisc.edu/product/living-on-the-coast-protecting-investments-in-shore-property-on-the-great-lakes/
Report storm damages to the National Weather Service (NWS)
Moore highlighted the importance of observational data for lakeshore flood modeling and projections. The NWS seeks reports of damages attributed to recent and past storm events — cost estimates and photos or videos are extremely valuable. These reports are useful not only for current modeling but will become part of the official storm record and help improve future modeling.
To learn more about efforts to model lakeshore flooding: https://www.weather.gov/dlh/lakeshoreflooding
Want to help? Anyone can make a report using this online form: https://docs.google.com/forms/d/e/1FAIpQLSd87gub2R_vCVCZkZ5GaPC88LIFfVhd0d7paSXjRbiD5GCZ7A/viewform
Resource highlights
With projections of higher water levels on Lake Superior this summer, these additional resources may be helpful.