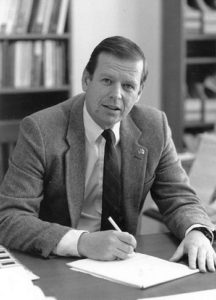 We're continuing to gather background information in preparation for Wisconsin Sea Grant's 50th anniversary celebration, which will happen in a few years. After speaking with Wisconsin Sea Grant's first director Robert Ragotzkie, I caught up with our second director, Anders Andren, as he "slaved away" on tasks as secretary of his condo association in Florida.
Anders, 74, graciously interrupted his duties to speak with me for a half hour about what he's been doing since he retired in 2012. He also shared memories about his time with our program, and offered insights into how Sea Grant came to Wisconsin.
You may recall Bob saying that he helped lobby for the Great Lakes to be included in the Sea Grant program when it was conceptualized in the 1960s. Anders said that the Great Lakes states held political sway over the process as well. He described how Ragotzkie and University of Wisconsin System staff spoke with the Wisconsin congressional delegation at the time, and got other Great Lakes delegations on board with the idea of including the Great Lakes in the Sea Grant legislation.
"The Great Lakes states provided a fairly powerful funding block," Anders said. "If they weren't for it, the legislation from Sen. Claiborne Pell would never have gone through, and it would never have gone through in the House."
A co-sponsor of the bill from Florida (Paul Rogers) agreed to add the Great Lakes to the legislation, and the bill passed.
Anders also said that when Sea Grant was first formed, its funding came from the National Science Foundation for a year or two, not the National Oceanic and Atmospheric Administration like it does now.
Anders has been busy helping Sea Grant on a national basis with site reviews (the process by which Sea Grant programs are evaluated every four or five years). He just came back from North Carolina Sea Grant's review process. Plus he is on the National Sea Grant Science Advisory Board, which evaluates the evaluation process and makes recommendations for tweaking it.
He's also been working in southeast Africa and Georgia with his son. The African project is at a resort in Mozambique, which features 20 miles of beach and an estuary that was in need of rehabilitation. Anders helped construct an artificial reef in the estuary.
The Georgia project is an aquaculture operation that involves raising largemouth bass for sport fishing and for sale.
Anders hasn't formed his own band yet (a goal mentioned in his retirement story from 2011), but he does play guitar with a pianist during weekends at a local restaurant. "It's not really a band and I don't do it every weekend, but most weekends," he said. "I also play piano for our condo's parties and Christmas parties. We have singalongs."
His legacy at Wisconsin Sea Grant has spread to other Sea Grant programs. "It was a terrific 21-year span. I think we had an impact on the Great Lakes. That's something the program should be quite proud of. We were probably the first ones who really funded toxic substance research in the Great Lakes in a systematic way. Now, other Sea Grant programs are finally doing that 15 to 20 years later!" he said.
He and his wife plan to celebrate their 50th wedding anniversary soon in England.
Despite his far-flung travels, Anders says Madison is still one of his favorite cities because of all his friends there. He's also an emeritus professor and visits campus periodically.
All in all, Anders is a great example that life is possible after Sea Grant. It seems as if he's living that life to the fullest.
(Post originally published Dec. 6, 2018)