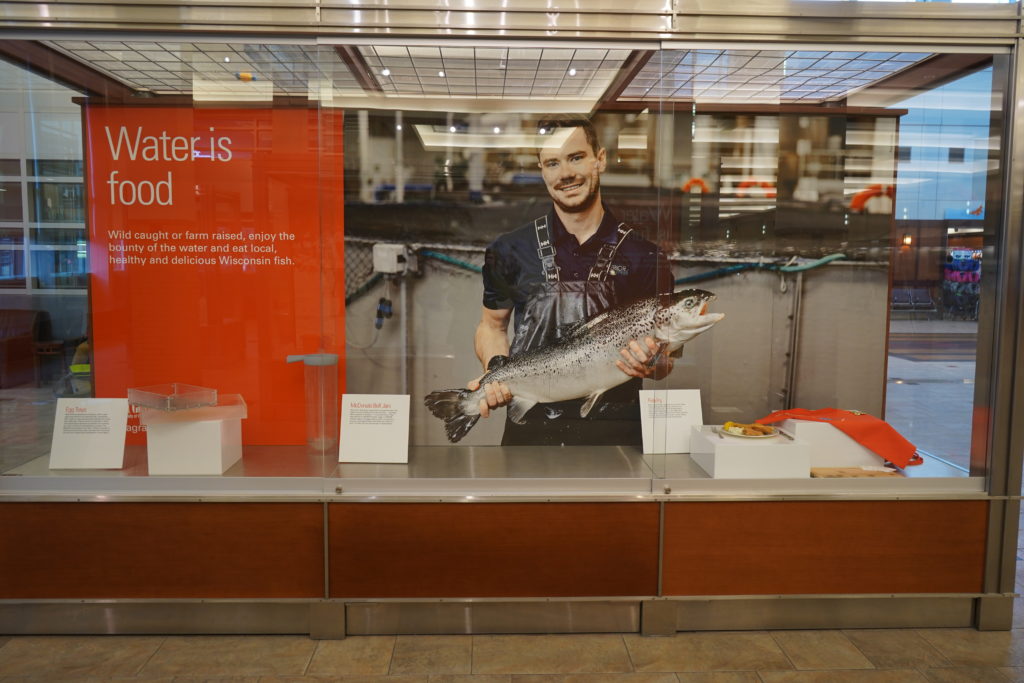 Ask a parent about their offspring and you're likely to be shown an iPhone photo or perhaps a slightly wrinkled school-snapped image pulled from a wallet. Ask Laverne and Barbara Woolever and you could be escorted into their garage to view a photo of their son Kyle.
A garage? That may end up being the best place to display the 86-by-126-inch image of their son who is the aquaculture manager at the Hixton-based aquaponics facility Superior Fresh. In the photo, the younger Woolever is standing tall and grasping a large speckled Atlantic salmon pulled from a production tank in the background.
The pair—human and fish—were featured as part of a display, Science and a Natural Wonder: the Great Lakes and Sea Grant, sponsored by Sea Grant and Tandem Press, affiliated with the University of Wisconsin-Madison, and installed at the Dane County Regional Airport from January to this week.
The younger Woolever illustrated the concept of aquaculture as a food source in Wisconsin. During its seven-month run, more 1 million people passed by the exhibit and learned about the largest freshwater system on Earth. Two of those 1 million people were the elder Woolevers who made a special trip to the airport to view the display. The younger Woolever had informed his parents his photo would be a part of the display and his mother said, "We were both a bit flabbergasted at how large it was." The image may now go in the garage of the Woolever home near Lake Mills or perhaps the ceiling of Kyle Woolever's home in Neillsville.
"We're both so proud of our son. We're bursting our buttons," Barbara Woolever said. "We're proud of how well that (aquaculture) facility is doing, and he works with some great, great people."
Wanting to capture the photographic manifestation of that pride, Laverne Woolever contacted the airport to inquire about the fate of the photo once the display would be de-installed. Airport staff directed them to Sea Grant Graphic Designer Yael Gen. Gen designed the exhibit and said, "I was so excited to hear from Kyle's dad and glad that we could give the photomural a second life."
She continued, "The airport has been terrific to work with. It's been so cool to share the Sea Grant mission in that venue. We're also grateful to Kyle and Superior Fresh for participating in the exhibit and of course, photographer Sara Stathas for making this portrait."
Gen secured permission from Tandem Press, where skilled preparators who created the display photomurals were more than happy to pass along Kyle's image to his proud parents.