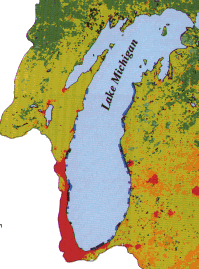 Lake Michigan is the third largest Great Lake and the fifth largest lake in the world. Bordered by Wisconsin, Illinois, Indiana and Michigan, it is the only Great Lake that lies entirely within the boundaries of the U.S.  Its name comes from the Algonkian Indian word for it, "Michigami" (or "Misschiganin"), meaning "large body of water."
Like Lake Huron, Lake Michigan's surface is about 579 feet above sea level. It is slightly smaller than its twin, with a surface area of 22,300 square miles — about half the size of Tennessee. Lake Michigan averages 279 feet deep and reaches 923 feet at its deepest.
This long, narrow lake — 307 miles by 118 miles — is a natural cul-de-sac. Only a relatively small amount of water flows out the bottleneck at the straits between Michigan and Huron, so Michigan holds its water a long time — nearly 100 years.
Coupled with the large numbers of industries and people living along its 1,659 miles of shoreline — particularly in the heavily urbanized Milwaukee-Chicago-Gary, Ind., crescent along its southwestern shore — Lake Michigan's long flushing time is why pollution of the lake is a special concern.
Lake Michigan has the largest sport fishery on the Great Lakes, valued at more than $250 million annually. Besides its world-class trout and salmon fisheries, the lake also supports substantial commercial whitefish and yellow perch fisheries.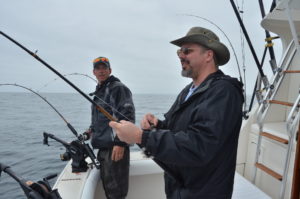 The largest lakeshore dunes in the world are also found along Lake Michigan, attracting millions of people annually to the lake's numerous beaches, coastal state parks and national lakeshores.
As in the days of the glaciers, some of the lake's water today empties into the Mississippi River via the Chicago Sanitary & Ship Canal and Illinois River. While this canal has facilitated shipping and helped reduce pollution of the lake, in recent years it has also helped aquatic invasive species into  the Great Lakes basin.