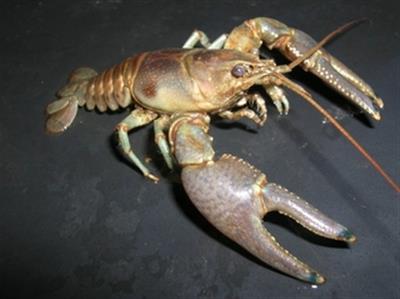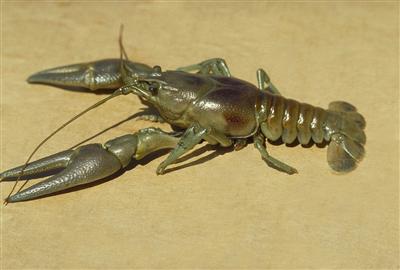 Where did the rusty crayfish come from?
The rusty crayfish is actually native to the southern United States.
It is believed that they were probably introduced to new areas by fishermen using them as bait.
Why are rusty crayfish a problem?
They are an opportunistic feeder, which means they eat almost anything, including plants and small fish.
They are a very aggressive species that often displace native crayfish.
They also reduce the aquatic plant abundance and diversity by destroying the plants as they feed.
Rusty crayfish mate in the late summer, early fall, or early spring, but the females wait until spring to lay their eggs. Each female can lay 80-575 eggs that will hatch in 3-6 weeks depending on the water temperature.
What do rusty crayfish look like?
Rusty crayfish have dark rusty-colored spots on each side of their back, about where you would grab them to pick them up.
They also have large, smooth claws that vary in color from grayish-green to reddish brown.
The rusty crayfish also have black bands at the claw tips.
How do we control rusty crayfish?
The best way to control rusty crayfish is to slow the spread of them to other lakes.
Do not use them as bait.
Inspect your boat and trailer for any exotic species and plants.
Drain water from motor, boat, live well and bait bucket.
Never transport them from one body of water to another.
Learn how to identify the rusty crayfish.