Where did zebra mussels come from? 
Zebra mussels are believed to have come from the Caspian Sea in Europe.
They arrived in the late 1980s in the ballast water of ships.
Zebra mussels have spread to 20 of the United States and the Provinces of Ontario and Quebec.
First found in Lake St. Clair, they have spread south to the Gulf of Mexico and north into southern Canada.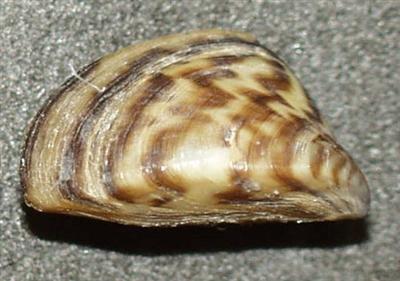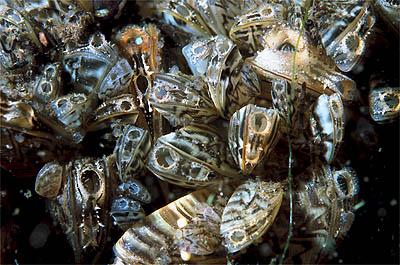 What do zebra mussels look like?
Zebra mussels can be up to two inches (50 mm) long.
They have striped shells that look like a zebra's stripes, which is how they get their name.
Zebra mussels can live for four to five years.
Zebra mussels also have sticky byssal threads that they use to attach tightly to any hard surface.
Why are zebra mussels a problem?
Zebra mussels are a problem because they filter water, up to a liter per day, to eat the plankton. Since the zebra mussels eat a lot of plankton, they compete with fish for food.
They also clog pipes by forming colonies inside of the pipes. Then the water cannot flow through the pipes as easily.
The cost to Great Lakes' utilities to control the zebra mussels in water intake pipes from 1989 to 2004 was $267 million (Connelly, et al 2007).
How do zebra mussels spread?
Zebra mussels can reproduce by the end of their first year.
They usually spawn in the early spring until winter, when the water temperature is about 68*F.
A fertilized egg results in a free-swimming planktonic larva called a veliger.
Veligers are about the diameter of a human hair and are so small you can't see them without a microscope.
The veliger floats in a water column for 1-5 weeks and then as it grows it begins to sink and search for a hard surface on which to live and grow.
How do we control zebra mussels?
Zebra mussels cannot be controlled in the wild.
On intake pipes, chemicals can be used that will kill the larva.If these chemicals were used in an open lake, they would also affect fish and native mussels.
The spread of zebra mussels can be prevented by draining all of the water from boats, live wells and bait wells.
Thoroughly inspect your boat's hull and trailer for any zebra mussels and weeds.
Let equipment sit for 4-5 days or rinse with hot water.
Never take fish or plants from one lake and put them in another.