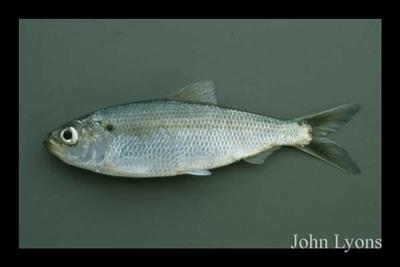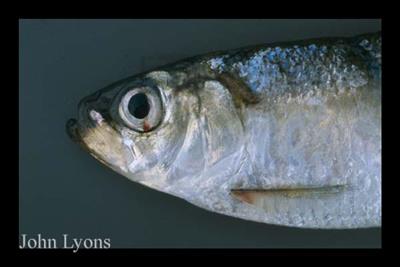 Where did the alewife come from?
The alewife is a saltwater species that is native to the Atlantic Coast. It was seen in Lake Ontario in the 1870s, and it spread to the rest of the Great Lakes after 1931 through the Welland Canal. Its abundance peaked in the 1950s as the lake trout populations decreased.
Why is it a problem?
Alewives eat the same prey, zooplankton, as many native species; they may also eat their eggs and larvae. Although alewives serve as food for lake trout, a diet high in alewives lowers reproductive success for the trout.
What does the alewife look like?
6-7 inches long at maturity
Metallic, silvery-green body
Upturned mouth
Black spot behind large eye
A row of scales along the belly
How can we prevent its spread?
To avoid spreading alewives, do not use them as bait outside the Great Lakes.
What habitat does it prefer?
The alewife spawns in bays and tributaries in late spring. It then moves offshore until late fall and is found near the bottom until spring.