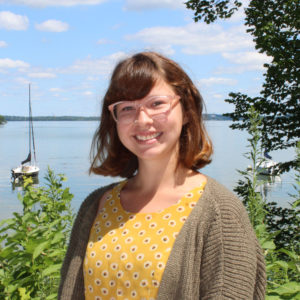 Wisconsin Sea Grant's videographer Bonnie Willison recently received two awards for her video production skills through a regional competition coordinated by an organization called Madison Media Professionals.
The group presents WAVE Awards, which honor excellence in the video production industry as well as in web, audio, video and graphic design. The 2022 competition received over 80 entries, including materials created for national entities like Toppers Pizza, Kohler, PBS Kids and American Family Insurance.
The Wisconsin Sea Grant video Nano- and Microplastics in the Great Lakes was awarded a WAVE merit award in the animation category. Willison created the scientific animations featured in the video by combining photography and motion graphics.
The second winning video is Clean, Drain and Dry Your Boat This Summer. It picked up a merit award in the branding and corporate image category. "We shot this video to raise awareness of invasive species in the Great Lakes," Willison said. "It was great to partner with local professionals who helped direct, shoot and provide voiceover for this piece"
Viewers can subscribe to the Wisconsin Sea Grant YouTube channel to stay up to date with new videos about the program's research, outreach and education.