Wins 2023 Wisconsin Library Association award
In a ceremony this evening at the Wisconsin Library Association (WLA) annual meeting, Anne Moser will accept the 2023 WLA President's Volunteer Award.
"I am truly humbled to receive this award from the Wisconsin Library Association, and I share it with all the other dedicated librarians that contribute their time and passion to making WLA such a great organization," Moser said.
Moser is the senior special librarian for the Wisconsin Water Library, supported by Sea Grant and its sister organization, the University of Wisconsin Water Resources Institute. The Water Library holds a collection of more than 30,000 materials related to rivers, lakes, oceans and groundwater.
In addition to managing that collection, Moser engages in extensive outreach activities with a focus on science, technology, engineering, art and mathematics as a librarian as well as the Sea Grant education coordinator.  
In announcing the award, the WLA referred to Moser as "well known and well-loved among public librarians all around Wisconsin, and their patrons, for the cheerful, fun and educational programs she presents on STEM and water-related topics." This reflects her tireless travels across the state to bring programming to places as far flung as the northwestern community of Deer Park (population 249), to Beloit in southern Wisconsin, then east to cities and towns along Lake Michigan.  
For her part, Moser credits the organization that is honoring her: "As a solo librarian, I have relied on WLA and other professional organizations for support, mentorship and friendship during my career. I encourage all new professionals to get involved!"
Moser herself supports new professionals through her work. Every year, she hosts a student from the University of Wisconsin-Madison, including students enrolled in the iSchool. In turn, she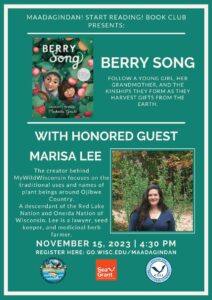 draws out skills from those students, including their contributions to one of Moser's favorite projects—Maadagindan! Start Reading! It's a book club focused on children's literature written by Native authors, focused on Ojibwe culture and the Great Lakes. Educators, librarians and parents—in fact, all—are welcome to attend and discuss the book and learn from an invited honored Indigenous guest during these monthly virtual meetings. The club is a collaboration with the Great Lakes Indian Fish and Wildlife Commission and supported by a grant from the Great Lakes Restoration Initiative
The WLA also cites Moser's skill at linking science and art. She has brought exhibits of stirring student underwater photography to libraries. Working with the Thelma Sadoff Center for the Arts in Fond du Lac to celebrate the sport and culture surrounding lake sturgeon, Moser led the effort to install "Ancient Survivors." She partnered with the Chazen Museum of Art in Madison on programming to raise awareness about marine debris and plastic pollution.
Moser is a member of the Association of Wisconsin Special Libraries, a division of WLA, and is currently serving as past chair of the group. She has also served on the WLA Board of Directors and chaired the board's Professional Development Committee.