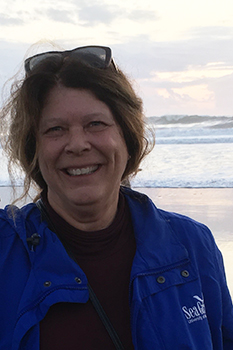 This summer, staff at the Aquatic Sciences Center (ASC) are saying a bittersweet goodbye to Terri Liebmann, assistant director for administration. While we're glad she will have more time for travel and personal projects, we'll miss her warm, easygoing personality and wealth of institutional and procedural knowledge.
Her last day is in the office is July 3, 2019.
Said Jen Hauxwell, ASC assistant director for research and student engagement, "Since the day I started, Terri has been my go-to person for everything related to how the center operates, from how our state budget works to where in the heck in Goodnight Hall we might have stashed the paper plates for hosting meetings. She knows where everything is, how everything works, and who everyone is!  She also has a great sense of humor, which will be missed as much as her knowledge about ASC administration."
Liebmann acquired her wealth of knowledge over many years of state service: 37 total with the state of Wisconsin, and the last 20 of those at ASC, where her activities cover both Wisconsin Sea Grant and the Water Resources Institute.
Liebmann has led budgeting and grant management, human resources, and other administrative areas that keep ASC humming.
A native of Madison, Liebmann now lives about 30 miles southwest of town in Blue Mounds, where she and her husband, Tim, care for over 200 acres of land. Some is their own, and some acreage they manage for her father-in-law.
She'll devote some of her newfound free time to projects on the property, but is also looking forward to upcoming travel to Colorado and Seattle. She and Tim also have longer-range plans to visit Spain in the next year or two.
While Liebmann is looking forward to her next chapter, ASC has been a major part of her life. "ASC staff has been my family for 20 years," she said. "I truly will miss everybody and the work, because I obviously enjoy what I do, or I wouldn't have been here for two decades."
High points for Liebmann have included being part of the Sea Grant Fiscal Officers Network and participating in several program reviews conducted by the National Sea Grant Office, including the March 2019 review.
Although program reviews are a lot of work, she said, "It's my favorite time because it pulls all of us staff together to make it happen, and it also pulls in many of our PI's." It's a chance to step back and appreciate the full portfolio of Sea Grant activities, from research and outreach to education and communications, said Liebmann.
On behalf of the entire Aquatic Sciences Center: best of luck, Terri, in all your future endeavors!