Wisconsin Sea Grant's videographer Bonnie Willison recently captured a video award through a regional competition coordinated by an organization called Madison Media Professionals.
The group presents WAVE Awards, which honor excellence in the video production industry as well as in web, audio, video and graphic design. The 2021 competition received over 90 entries, including materials created for international and national entities like Yamaha, BBC America, Google and PBS Kids.
The Wisconsin Sea Grant video Geo Rutherford: Voices of the Coast was awarded a WAVE merit award in the video editing category.
"It was fun to meet Geo, interview her in her home studio, and then go beachcombing with her in Milwaukee," Willison said. "It was a rewarding challenge to edit hours of footage into a short, 5-minute documentary-style piece."
The winning video is a light-hearted, buoyant profile that matches the spirit of Wisconsin artist Geo Rutherford, who creates prints, collage and sculpture that explore the hidden elements of the Great Lakes. Showcased in the video are Rutherford's colorful installations, which highlight small synthetic or natural objects that are washed ashore by the waves. Rutherford also draws attention to microplastics like nurdles, which are a growing marine debris problem in Great Lakes ecosystems.
Rutherford's work also focuses on aquatic invasive species. She hand-prints images of alewives, sea lamprey, and invasive mussels and collages the images into chaotic, mesmerizing works of art.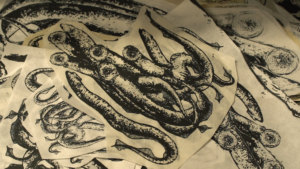 The video is part of the Voices of the Coast series, which tells the stories of individuals who live, work and recreate around the Great Lakes. Their experiences provide a lens for larger topics that touch on the lakes such as social justice, fisheries and conservation. The ever-expanding series can be found here.