NOAA Sea Grant, in collaboration with U.S. Department of Defense, U.S. Department of Energy, U.S. Environmental Protection Agency, U.S. Fish and Wildlife Service, and U.S. Geological Survey, announces six new partnership positions. The Sea Grant Federal Partnership Liaisons will integrate Sea Grant extension expertise with science, products and services from NOAA labs and other publicly supported scientific research programs. These jointly funded positions expand on a key component of Sea Grant's work, extending science to end users and doing so through collaborative partnerships.
"The Sea Grant Liaisons provide strong connection points between emerging research and interested parties to tackle some of coastal and Great Lakes communities' most pressing issues," stated Dr. Jonathan Pennock, director of NOAA's National Sea Grant College Program. "By engaging user communities around the country, Sea Grant's Federal Partnership Liaisons program harnesses the Sea Grant network's strengths to inform the work of federal science and service agencies."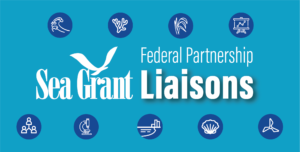 Focus areas for the new liaisons include aquatic invasive species, climate resilience, offshore wind energy, aquaculture opportunity areas, harmful algal blooms and community science for underserved communities. They join three existing Sea Grant partnership liaisons who work in ocean acidification, tsunami and coastal resilience, and Great Lakes research with NOAA's Pacific Marine Environmental Laboratory and NOAA's Great Lakes Environmental Research Laboratory.
The positions announced today are the result of a competitive funding opportunity announced in 2020. These Federal Partnership Liaisons are as follows:
Aquatic Invasive Species Liaison, with Wisconsin Sea Grant and U.S. Fish and Wildlife Service;
Coastal Resilience Liaison, with Georgia Sea Grant and U.S. Department of Defense;
Community Science Liaison, with Louisiana Sea Grant, Lake Champlain Sea Grant, U.S. Environmental Protection Agency, U.S. Geological Survey, NOAA Office of Education and NOAA Fisheries;
Harmful Algal Bloom Liaison, with Florida Sea Grant, NOAA's National Centers for Coastal Ocean Science and NOAA's National Environmental Satellite, Data, and Information Service;
Offshore Wind Energy Liaison, with Rhode Island Sea Grant and U.S. Department of Energy; and
Shellfish Aquaculture Liaison, with Connecticut Sea Grant and NOAA Fisheries Office of Aquaculture and Milford Laboratory.
Wisconsin Sea Grant's Aquatic Invasive Species Outreach Specialist Tim Campbell will be the AIS Liaison. He will serve in this capacity part-time while continuing his current role with Wisconsin Sea Grant. As a liaison, he will work broadly on AIS outreach coordination for the Aquatic Nuisance Species Task Force, co-chaired by USFWS and NOAA. He will also work to strengthen Sea Grant connections with the regional aquatic nuisance species panels and assist with AIS work in the National Sea Grant Office.
In addition to closely aligning with Sea Grant strategic goals and Sea Grant Network Vision Plans, the Liaisons support shared priorities in sustaining coastal and Great Lakes communities. These positions will build on agencies' efforts to address three of the Biden Administration's Executive Orders, "Executive Order on Protecting Public Health and the Environment and Restoring Science to Tackle the Climate Crisis", "Executive Order on Tackling the Climate Crisis at Home and Abroad" and "Executive Order On Advancing Racial Equity and Support for Underserved Communities Through the Federal Government."
"EPA is excited to work with our federal partners to address critical water research needs in coastal communities," said Dr. Wayne E. Cascio, Acting Principal Deputy Assistant Administrator for Science in EPA's Office of Research and Development. "By working directly with communities, we can increase scientific knowledge and promote more inclusive public engagement in priority environmental concerns, including environmental justice and climate change."
The Sea Grant Liaisons will serve as a resource to the public, helping to engage and educate communities. Learn more about Sea Grant's Federal Partnership Liaisons here.