Just as she regularly wrestles 50-pound boxes of clay into her studio to shape into vessels adorned with symbols of nature as part of her artistry-turned-business, Sharon Moen—as the newest member of Wisconsin Sea Grant—has some molding to do in her role as outreach specialist focused on the Eat Wisconsin Fish initiative.
Moen will be fashioning the parts of the existing initiative into new forms. She'll fire them into rejuvenated and brand-new tools to serve commercial fishermen, charter fishermen, processors and aquaculture operators, as well as educating consumers, retailers and those in the culinary world about the benefits of local, healthy and delicious Wisconsin fish.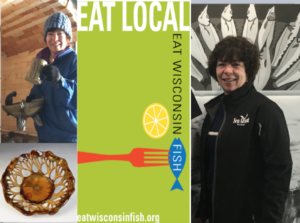 This is all, of course, to be done against the backdrop of a once-in-lifetime pandemic that is affecting businesses of all types—particularly hitting hard those tied to the fish supply chain—and reaching into family homes where people are making food decisions in a disrupted world.
A Washington Post story from late spring noted that with restaurants closed the nation's fisheries, across all regions and species, have reported sales slumps as high as 95 percent. Some species are considered more luxury choices and with the economic hit from Covid-19 perhaps grocery budgets aren't putting fish on the household menu. Americans spend more than twice as much on seafood in restaurants than they do at home.
Into this scenario steps Moen, who may be new to Wisconsin Sea Grant but is far from being new to serving Sea Grant stakeholder needs and immersing herself in Great Lakes issues having spent 21 years with Minnesota Sea Grant. She was the program's senior science communicator prior to her departure from that program in April of this year.
"It's an honor to be a public servant again," said Moen. "The pandemic has revealed many things about the U.S., including how easily our food systems can be disrupted. I'm ready to channel creativity and moxie toward helping people value Wisconsin's commercial fisheries and fish-producing operations in ways that support jobs, the state's food independence, the environment and human health. I'm excited to be joining a great team of Sea Grant's staff and researchers on this important project."
Moen will tackle a needs assessment of various sectors to inform a strategic plan on how to best proceed to address challenges, perhaps through webinars, one-on-one communication social media and/or the Eat Wisconsin Fish website. She'll rely on some previously funded Sea Grant research on fish farmers, as well as another on consumer perception on aquaculture.
"We are really excited about all the relevant experience that Sharon brings to Wisconsin Sea Grant. She has worked on past successful outreach and communications campaigns to promote farm-raised and wild-caught fish, including chef competitions and public tastings," Sea Grant Assistant Director for Extension David Hart said. "Sharon is a gifted writer and contributed to a strategic plan for aquaculture in Minnesota. She has extensive connections throughout the Sea Grant network and will be able to hit the ground running."
About that pottery, in her off hours, Moen will continue to create objects of utility and beauty, as well as embracing macro projects. She is currently making 140 specialty tiles for a kachelofen, a German masonry stove that will heat a vacation home on one of Wisconsin's many lakes. This proves, once more, Moen's skill at merging two careers and two passions from the clay of the Earth and the wonders of water.