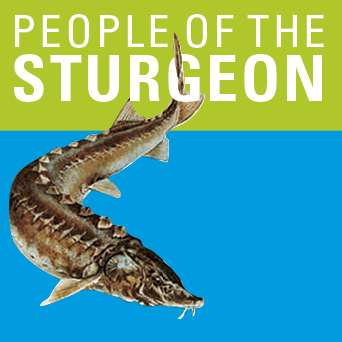 Listen to the podcast 
Perhaps you've read the book. Well now you can listen to the people who made the book, "People of the Sturgeon: Wisconsin's Love Affair with an Ancient Fish," possible. Throughout the process of writing this book about the culture surrounding sturgeon spearing on Lake Winnebago, the authors interviewed 69 community activists, sturgeon spearing enthusiasts, spear and decoy craftsmen and scientific researchers.
The importance of the cultural, social, economic and scientific knowledge captured in these interviews spurred the effort to preserve the audio files as a collection of oral histories. The recordings are available for free listening through the University of Wisconsin-Madison Libraries' Collections (http://digital.library.wisc.edu/1711.dl/WI.SturgeonPrj). They encapsulate perspectives on lake sturgeon as they are reflected in the book.
Short on time? You can listen to abbreviated sound clips from the book on Wisconsin Sea Grant's podcast page: https://www.seagrant.wisc.edu/audio/people-of-the-sturgeon/.
The oral histories also contributed to two other "People of the Sturgeon" projects: an online story map and an art exhibit. The story map allows users to access a condensed version of the book text online, accompanied by images, oral history audio and interactive maps depicting sturgeon population data (http://bit.ly/2Or7niV).
The art exhibit, a collaboration with the Thelma Sadoff Center for the Arts, tapped into the power of place-based education by bringing "People of the Sturgeon" to the heart of the sturgeon spearing community in Fond du Lac, Wisconsin. The exhibit included fine art prints, decoys, spears, worldwide memorabilia, audio from the oral histories and a record-sized taxidermied sturgeon. Over 8,000 visitors enjoyed the exhibit while it was open in the winter of 2019, and photos of the exhibit are available online for future enjoyment (http://bit.ly/2HUCemQ).
"People of the Sturgeon" was written by Wisconsin Sea Grant staff, Kathleen Kline and Fred Binkowski with help from Ronald Bruch. It was published in 2009 by the Wisconsin Historical Society Press and has captured a dozen state, regional and national prizes. The audio is courtesy of the Oshkosh Public Museum.