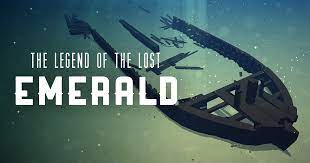 The Legend of the Lost Emerald, a free online video game for children, earned a gold medal at the 2022 International Serious Play Awards Program in Orlando, Florida. The immersive, boldly illustrated adventure game was one of nine educational games developed for learners ages K-12 that was cited for excellence last week.
The game provides learners in grades 4-6 the experience of using the same tools, practices and skills that maritime archaeologists use to locate and dive for shipwrecks on the Great Lakes and uncover the real treasure — the stories inspired by actual shipwrecks and Great Lakes history. English language arts, social studies, and Great Lakes literacy skills and standards are supported through game play and extension activities. The game is available in English and Spanish and was designed by Field Day Lab, PBS Wisconsin Education, Wisconsin Sea Grant and an advisory group of Wisconsin educators.
"We were especially impressed with the quality of the games produced for use in K-12 education," said Sue Bohle, a former high school teacher and Atari Games executive who leads the conference. "The learning game industry has matured to the place where the new products really work for teachers and parents."
The awards program honors outstanding commercial and student products that incorporate game elements and were created for use in education or training. Entries are judged for their success is meeting learning objectives, engagement, aesthetics and assessment goals.
"The entire collaborative team on this project did an incredible job connecting students to the rich maritime history of the Great Lakes watershed," said Anne Moser, education coordinator for Wisconsin Sea Grant. "The goal of education at Sea Grant is to spark a passion for the Great Lakes, and I have seen how shipwreck stories do just that. We are excited to share this with the educators and youth we work with throughout Wisconsin."