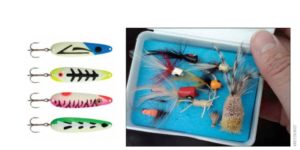 As anglers are readying gear for the opening of the 2019 fishing season on May 4, they can add a free guide and downloadable app to their lures, lines and bobbers.  
Wisconsin Sea Grant offers a downloadable four-page guide on selecting lure colors to increase the odds of reeling in a catch. The resource, "Selecting Lure Colors for Successful Fishing," discusses how water depth and clarity, along with the level of light, influences how fish see colors.
Sea Grant also offers a popular "Fish ID" that is available via website and mobile app. It's a photo-rich guide to what's in the creel. To use the web version or download for Android devices, visit Sea Grant's website. A version for Apple devices can be downloaded directly from Apple's App Store. The mobile website and app are presented in partnership with the Wisconsin Department of Natural Resources and the University of Wisconsin-Madison Center for Limnology.
Finally, after taking home the fishing bounty, check eatwisconsinfish.org for recipes and tips on preparation and preservation.