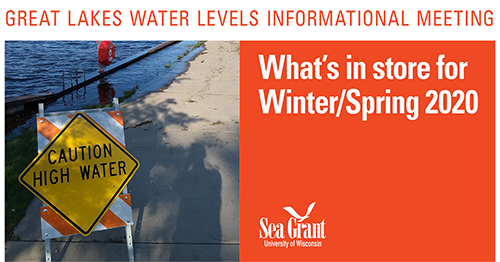 Great Lakes water levels have been at or near record highs in recent months, prompting concern among many Wisconsin residents.
Those interested in learning what's in store for Great Lakes water levels for the rest of this winter and into spring 2020 are invited to an informational meeting on Wednesday, Jan. 15, from 6 to 8 p.m. at the Brown County STEM Innovation Center in the Flex Space room (2019 Technology Way, Green Bay).
Said Adam Bechle, a coastal engineering outreach specialist with Wisconsin Sea Grant, "The high water levels on Lake Michigan have caused a lot of issues along the shore, as well as worries about what 2020 will bring. This meeting will be an excellent opportunity to hear from federal and state agencies about the current high water conditions, the outlook for water levels in the next few months, and some strategies to address the effects of those high water levels."
Attendees will hear from Bechle along with other experts from the U.S. Army Corps of Engineers, the National Weather Service Forecast Office in Green Bay and the Wisconsin Department of Natural Resources. There will also be time for attendees to ask questions.
Seating is available on a first-come, first-served basis. Discussion will be moderated by Julia Noordyk, water quality and coastal communities outreach specialist with Wisconsin Sea Grant. For more information and to see the full list of speakers, view the event flyer. 
View or print an event flyer here.
View or print a list of resources for Great Lakes property owners here.
Directions to the building can be found on the website for Brown County Extension.
Those who can't attend the meeting in person may attend virtually through Zoom.
Questions about the event may be directed to Bechle at (608) 263-5133.