Feb. 10, 2020
Today, the administration released a proposed budget for the federal fiscal year that begins on Oct. 1, 2020. The National Sea Grant College Program is a federal-state-university partnership with 34 programs across the nation, including the program here in Wisconsin. Since federal dollars contribute to our ability to meet the needs of Wisconsin's coastal communities and in service to the Great Lakes as a whole, we pay attention to what this budget blueprint says about the National Sea Grant College Program. Disappointingly, the administration has once again—for the fourth year in a row—proposed eliminating Sea Grant.  
Wisconsin Sea Grant can demonstrate over and over the merit of its efforts. There are numbers: From 2018 to 2020, Sea Grant received $4.1 million in core federal dollars that were matched by $2 million in state investment. That leveraged investments of $4.5 million in additional state, federal and outside funding.
Currently, those funds are supporting 15 Sea Grant research projects, three education projects and 32 outreach efforts happening from a base on seven Wisconsin campuses. Initiatives include addressing record-high Great Lakes water levels, the "forever" chemicals PFAS, and the transfer of skills and knowledge to the state's growing $21 million-aquaculture industry.
It's good news that Congress recognizes the value of work such as this, and at similar Sea Grant programs throughout the U.S. The administration's budget is considered a starting point and Congressional changes are coming to the proposal, much as what happened with the current federal budget. Nationally, Sea Grant is now being funded at $87 million, which is a $7 million increase over the 2019 budget.
We are deeply grateful for the confidence members of Congress have shown in our ability to make a difference in coastal communities and on behalf of the Great Lakes themselves. We are also deeply grateful to our stakeholders, partners, collaborators and friends who offered an outpouring of support for our work. They know full well that Sea Grant funds lakes Michigan and Superior research, and the application of the research to ensure the sustainable use of these crown jewels that underpin the quality of life and economy of our state. 
If you would like to make a comment to members of Congress regarding the value of Sea Grant and the budget being proposed for what is known as FY21, you can find your House of Representatives member at house.gov/representatives/find. Find your senators at senate.gov. 
And to learn more about our current projects and impacts, check out this fact sheet.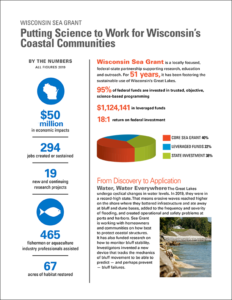 Thank you, 
Jim Hurley
Director, Wisconsin Sea Grant