Dec. 22, 2020
A flurry of Congressional activity at the end of 2020 brought good news for Sea Grant. First, Congress passed and the president signed an authorization bill for the National Sea Grant College, of which Wisconsin Sea is a part. That was followed by action to fund the program for the federal fiscal year that had begun on Oct. 1.
We are grateful to members of the House of Representatives and the Senate for rejecting an administration recommendation that Sea Grant receive no funding at all. Instead elected officials could see the value of the program and funded it at the level of $88 million for the remainder of the fiscal year, which will end on Sept. 30, 2021.  
Sea Grant has earned the confidence members of Congress by demonstrating our ability to make a difference in coastal communities and on behalf of the Great Lakes themselves. We are also deeply grateful for the support from our partners, collaborators and stakeholders who recognize our efforts meet Wisconsin needs.
Under the very difficult conditions we all have faced this year due to the coronavirus we have strived to offer virtual services. We are also reexamining our service in light of the necessary and fervent national discussion about systemic racism to ensure everyone has equitable access to our state's Great Lakes assets.
We are currently funding 15 coastal and Great Lakes research projects, three education projects and 32 outreach initiatives happening from a base on seven Wisconsin college campuses. Projects include—to name only a few—addressing record-high Great Lakes water levels, the "forever" chemicals PFAS, and the transfer of skills and knowledge to the state's growing $21 million-aquaculture industry. We are considering ways to best build on existing justice, equity, diversity and inclusion practices in recruitment, hiring and programming.
To learn more about our current projects and impacts, check out this fact sheet.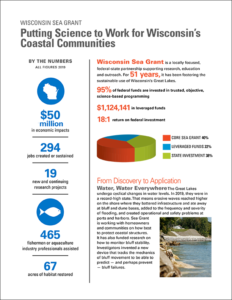 Thank you.
Jim Hurley
Director, Wisconsin Sea Grant