Oct. 1, 2020
Today is the first day of the federal fiscal year 2021. Congress had been working on a series of proposals to fund the federal government for this new budget year but did not complete the work by its deadline. So as not to halt all governmental activities, Congress passed and the president signed what is known as a continuing resolution (CR) that will be in effect until Dec. 11.
The CR will now bankroll the vast number of federal programs at the fiscal year 2020 level, including funds for the National Sea Grant College Program—which includes Wisconsin Sea Grant—until it addresses what was for the fourth time in a row, an Administration proposal to defund Sea Grant. As in prior years, however, the House of Representatives and the Senate rejected that recommendation and instead invested in what they see as the value of Sea Grant at the level of $87 million.
While the final funding for fiscal year 2021 remains unsettled, we are nonetheless deeply grateful for the confidence members of Congress have shown in our ability to make a difference in coastal communities and on behalf of the Great Lakes themselves. We are also deeply grateful for the support from our partners, collaborators and stakeholders who recognize our efforts that meet Wisconsin needs.
We are currently funding 15 coastal and Great Lakes research projects, three education projects and 32 outreach initiatives happening from a base on seven Wisconsin college campuses. Projects include—to name only a few—addressing record-high Great Lakes water levels, the "forever" chemicals PFAS, and the transfer of skills and knowledge to the state's growing $21 million-aquaculture industry.
What you can do. You can contact your Representative and Senators by phone or email. Please thank them for their past support for the National Sea Grant College Program and stress the support needs to continue for the still unresolved fiscal year 2021 because it benefits Wisconsin. For details on how to reach the members: For the House of Representatives, you can easily search for names of members of Congress and their contact information. For the Senate and their contact information.  
And to learn more about our current projects and impacts, check out this fact sheet.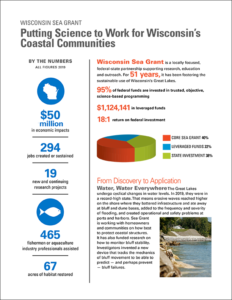 Thank you, 
Jim Hurley
Director, Wisconsin Sea Grant